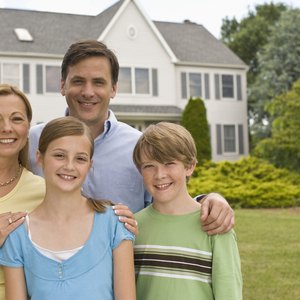 •••
Comstock Images/Comstock/Getty Images
When you apply for a loan insured by the Federal Housing Administration, you must provide a down payment of at least 3.5 percent. Although this amount is significantly lower than the required down payment for most conventional loans, you may still have trouble coming up with enough cash to cover it. However, you can reduce the amount of cash if the seller agrees to provide a gift of equity.
About Gifts of Equity
A gift of equity occurs when the seller of the home prices it below fair market value as a favor to the buyer. The lender may then reduce the buyer's minimum required down payment by the difference between the fair market value of the home and the sale price. For example, if the fair market value of a home is $300,000, and the seller agrees to sell it for $275,000, he has provided the buyer with a $25,000 gift of equity.
FHA Guidelines
FHA allows gifts of equity from family members only. According to FHA underwriting guidelines, a family member may be your spouse, parent, grandparent, biological child, adopted child, foster child or stepchild.
A gift of equity will count toward your down payment only if the seller signs a letter stating the nature and amount of the gift, his relationship to the buyer and his contact information. The letter must also indicate that the seller releases the buyer from any obligation to repay the gift. In addition to the gift letter, FHA lenders will often request additional verification of the amount itself, which may include an appraisal of the property's fair market value.
Special Circumstances
FHA may waive some of its gift of equity requirements for sellers who operate approved affordable housing programs. In such cases, sellers may provide gifts of equity to buyers who are not their family members. To apply for a waiver of gift fund requirements, sellers must consult the Homeownership Center in their jurisdiction.
Additional Considerations
Although sellers can provide gifts of equity, FHA does not allow sellers to provide any other types of gifts, including cash or personal property, toward the purchase of the home. Although gifts of equity must come from family members, other types of gift funds can come from family members, other relatives, employers, close friends, government agencies or nonprofit organizations. If any gift of equity does not meet FHA requirements, FHA will reduce the amount of the insurable mortgage by the amount of the gift.
References
Writer Bio
Amanda McMullen is a freelancer who has been writing professionally since 2010. She holds a bachelor's degree in mathematics and statistics and a second bachelor's degree in integrated mathematics education.