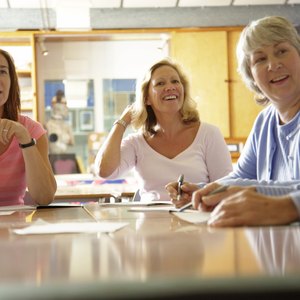 •••
Ableimages/Digital Vision/Getty Images
Women over 50 are going back to school, using educational grants to obtain four-year and advanced degrees to compete in a global economy and qualify for higher incomes and new job opportunities, sometimes in fields formerly reserved for men.
Why women over 50 are back in college
According to a "Woman's Day" magazine article, "Baby Boomers--Back In Class," women over 50 are going back to college because education improves their chances for a better job, higher position and better pay. Many women want to finish degrees interrupted by family, children or a money shortage. Finishing school can contribute to a sense of accomplishment and heightened self-esteem. Grant money from the government or private foundations helps women achieve these goals.
Available grants
Some grants for women over 50--mostly for undergraduates--are awarded based on financial need. These grants include Pell Grants and AARP Foundation's Women's Scholarship Program.
Pell Grants are awarded based on financial need to eligible undergraduates who have not earned bachelor's or professional degrees. The Pell Grant does not have to be paid back and is a program of the U.S. Department of Education.
The AARP Foundation's Women's Scholarship Program is sponsored by several corporations including Bank of America and Walmart. The scholarship program targets women with limited financial resources.
Courses of study
Educational grant funding for women over 50 is available from private and government sources for four-year degree studies and advanced degree studies. Many pay full tuition for a certain number of credit hours. There are also grant programs of smaller amounts for certifications in a particular field.
Considerations
There are various sources that women over 50 can use to obtain educational grants. Contacting the local college or university and asking about grants or scholarships is a good way of getting information.
There are also online databases of grant opportunities by age group, race and gender. Womenforhire.com has a forum on educational opportunities and testimonies from women attending college after age 50, stating what type of grant or funding they used to pay for their education.
A new industry called "college funding services" can be used to find grant opportunities for women over 50. These services charge a fee to research grant opportunities and help with application.
Benefits of educational grants for women over 50
According to collegescholarship.org, the average cost of a four-year education at a private institution is $20,000.
For women over 50, obtaining an educational grant to go back to college takes the burden off paying out of pocket or obtaining a loan. A grant doesn't have to be paid back, which means the woman can concentrate fully on her studies.
References
Resources
Writer Bio
This article was written by PocketSense staff. If you have any questions, please reach out to us on our contact us page.