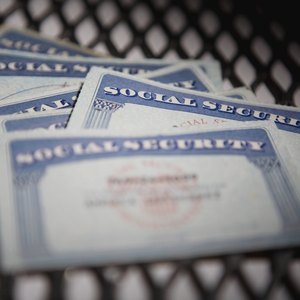 •••
Glowimages/Glowimages/GettyImages
If someone never worked, she won't be eligible for regular Social Security retirement benefits. In order to qualify for SSI benefits, you have to have at least 40 work credits. One credit means you earned a minimum amount from working in a calendar quarter. However, people who don't accumulate enough credits by the time they reach retirement age can still receive income from Social Security in other ways.
If you've never worked, you won't have the required credits to get normal Social Security benefits, but you could still receive benefits through your spouse or qualify for Supplemental Security Income.
Spousal Benefits
The Social Security Administration will pay retirement benefits based on a spouse's earnings and benefit amount, even if you don't qualify based on your own work history. You must be caring for a qualifying child or be at least 62, and your spouse has to be receiving benefits. For purposes of the Social Security Administration, a qualifying child is one who is under age 16, or who also receives Social Security benefits of his own.
You can get up to 50 percent of your spouse's monthly benefit, as long as you begin collecting benefits at full retirement age, which varies from age 65 to age 67 depending upon your year of birth. Spousal benefits are reduced when you start them early, unless you are caring for a qualifying child, during which time benefits will not be reduced. At age 62, you get only about 35 percent of your spouse's benefit amount. A divorced person may claim spousal benefits as long as he doesn't remarry and was married for 10 years.
Supplemental Security Income
If you don't qualify for regular or spousal Social Security retirement benefits, or your benefit amount is low enough, you may still qualify for Supplemental Security Income. The SSA says you must be 65 or older, be a United States citizen or national, and meet resource and income tests to qualify. Those who are blind or disabled are also eligible for Supplemental Security Insurance, but if you have certain unsatisfied felonies or arrest warrants, you are ineligible.
The resource test states that you can't have more than $2,000 in assets, or $3,000 for a married couple. These limited resources include cash on hand, bank accounts, stocks and savings bonds as well as land, cars, life insurance policies and anything else that you can liquidate into cash. If you have income, it reduces the SSI monthly benefit amounts of $750 per eligible individual and $1,125 per eligible couple. Examples of income include pensions, Social Security benefits, earnings from work, free rent or food and support from a spouse.
References
Writer Bio
Based in Atlanta, Georgia, W D Adkins has been writing professionally since 2008. He writes about business, personal finance and careers. Adkins holds master's degrees in history and sociology from Georgia State University. He became a member of the Society of Professional Journalists in 2009.