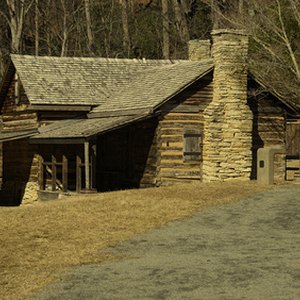 Overspending on a cabin rental in Ohio means less money for vacation activities. Many places rent log cabins in Ohio, with prices ranging from affordable to outrageous. Those planning a vacation can find comfortable cabins for the entire family in Ohio that are both comfortably equipped with amenities and reasonably priced.
Lazy Lane Cabin Rentals
Lazy Lane Cabins has cabins available for rent starting at just $69 on weekdays as of August 2010. They are located in the Hocking Hills region of Southeastern Ohio near the town of Logan, Ohio. This area boasts nine state parks. According to the Lazy Lane Cabins website, their 31 cabins are rustically decorated and labeled as "deluxe vacation homes." Pets are welcome in five select cabins. Standard amenities include satellite television with DVD players, electric heat and air conditioning and free local calls. Some cabins have hot tubs, fire pits, wireless Internet connection, washers and dryers and gas barbecue grills.
Lazy Lane Cabins 16757 State Rt. 664 S. Logan, OH 43138 877-225-6572 lazylanecabins.com
Ash Ridge Cabin Rentals
Ash Ridge Cabins are located in Laurelville, Ohio. As of August 2010, choose from four cabins with rates starting at $99. Each cabin has a deck, a hot tub and a fireplace. While there are no telephones, each cabin has a television with local channels. Ash Ridge Cabins, per their website, are "very modern, but still have the feel of a natural log cabin." Area attractions include Ash Cave, Old Man's Cave, Rock House, Rose Lake and more. Area activities include horseback riding, hunting, fishing, swimming, rock climbing and shopping.
Ash Ridge Cabins 17171 Sam Carr Rd. Laurelville, Ohio 43135 740-332-1015 ashridgecabins.com
Sunset Ridge Log Cabins
Sunset Ridge Log Cabins are located in Danville, Ohio. As of August 2010, rates are $125 a week night and $150 on weekends. According to the Sunset Ridge Log Cabins website, cabins feature kitchenettes, televisions, hot tubs and views of rolling hills. Activities include dining on local Amish dishes, shopping for Amish furniture, golfing, fishing and hiking.
Sunset Ridge Log Cabins 11772 Shoemaker Road Danville, Ohio 43014 740-599-2981 sunsetridgelogcabins.com
Twilight Cabin
Nestled in Sugarcreek you will find Twilight Cabin. As of August 2010, rates start at $149 a night for week nights. This vacation rental has skylights, mood lighting, phones, high-speed Internet, a washer and dryer, a full kitchen, a dining area, a living area, a deck and a hot tub. The bedroom features one queen-size bed and one optional queen-size blow-up bed. Local attractions include Walnut Creek Cheese, the Amish Flea Market, Hillcrest Orchards and Coblentz Chocolate.
Twilight Cabin 3451 Township Rd. 157 Sugarcreek, OH 44681 877-645-8532 twilightcabin.com
Bishop's Ridge Cabins
Bishop Ridge has six cabins available to rent in Hocking Hills, Ohio. As of August 2010, rates start at $109 per night on week nights. Available cabins include the Honeybee, Homestead, Dragonfly, Retreat, Fox Run and Spruce Moose. Each of the cabins has a maximum occupancy of two people, except the Spruce Moose cabin, which sleeps six. Amenities include hot tubs and televisions. Additional services include full body massages, roses and cabin food service. Area attractions include relaxing at Lake Logan, shopping at Out In The Hills and dining at the Boot Factory Grill.
Bishop's Ridge Hocking Hills, OH 740-385-3734 bishopsridge.com
References
Writer Bio
Brandy Davis has been writing articles for private clients since 2005. She is pursuing a Master of Arts in library science from North Central Texas College.