Can I Borrow Against My Income Taxes Early?
by Samantha Kemp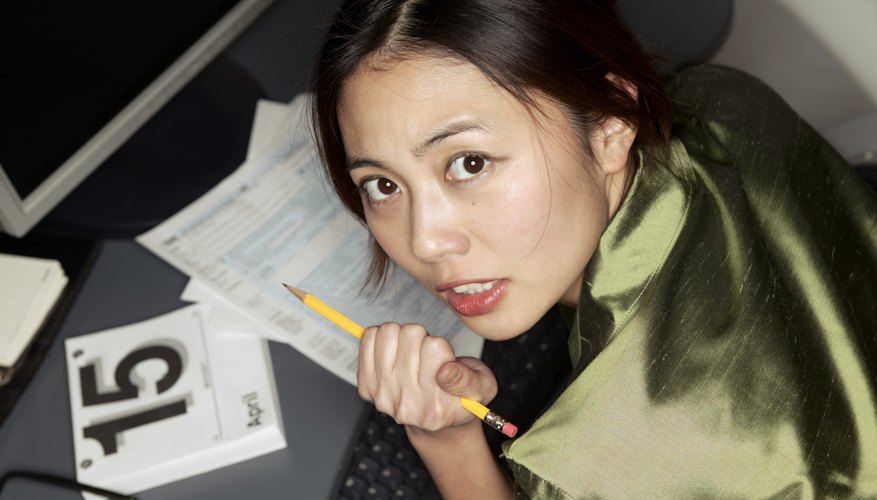 Refund anticipation loans and checks allow you to borrow against your own tax refund so that you can have quicker access to funds to pay off debt, buy presents or pay bills. If you have a cash shortage, this option can help you through the bind, but it does have its drawbacks.
About the Loans
Refund anticipation loans allow you to receive your income taxes more quickly than waiting on your refund to be mailed or deposited in your bank. They also allow consumers to pay the tax filing fees through the loan so they don't have to come up with the money upfront. Refund anticipation loans are technically bank loans and last for seven to 10 days until the IRS pays off the loan. Money may be available on a debit card, direct deposit or check. Your income tax preparer should be able to tell you if you qualify for the loan after she receives word that your loan has been accepted by the IRS. Fewer refund anticipation loans are available due to federal regulation.
About the Checks
Refund anticipation checks are similar to the loans. A bank opens up a temporary account, and the IRS deposits the refund to that account. The fees and tax preparation fees are taken out of the account, and the customer gets a check for the balance. The account is then closed. This arrangement also lets a consumer pay tax preparation fees from the refund, rather than upfront.
Fees and Interest
Refund anticipation loans can be very expensive, especially for such a short-term loan. Consumers may be charged a loan fee, add-on fees and a high interest rate. Liberty Tax Service offered a tax-time loan in 2013 for nearly a $50 fee and an undisclosed amount of interest. Jackson Hewitt's 2013 service charged a 35 percent interest rate, a $6.25 monthly fee and a 3 percent or $10 fee every time that the consumer accessed the credit line. This loan worked out to $30 for a $500 credit line for a month's time. AIT Financial Group launched a product in 2013 that gives consumers $600 in exchange for them assigning a refund of $700 to $725 to the financial group. Some tax preparers and their bank partners may charge higher fees and rates for same-day refund anticipation loans. Interest rates of 211 percent are not unheard of. As of 2013, banks charge between $30 to $55 for refund anticipation checks, and tax preparers may include additional fees up to hundreds of dollars.
Other Options
Cheaper ways are available to use income taxes. For example, the IRS e-file option allows you to file more quickly, while the direct deposit option lets consumers get refunds within 10 to 14 days. If the refund is needed to purchase a new vehicle, car dealers sometimes allow a purchaser to delay a down payment until the refund comes in, provided that the purchaser can gauge how much refund is coming.
Photo Credits
Comstock/Comstock/Getty Images