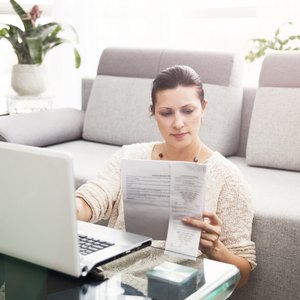 •••
vitapix/E+/GettyImages
It can be tough waiting for an expected refund during tax season, especially if you have bills to pay and other expenses. Unfortunately, you're stuck waiting until the IRS processes your return before you can get your hands on the refund. An alternative option is to use a tax refund loan to tap into the money early, but it's important to understand how these financial offerings work before agreeing to any terms.
You can take out a short-term loan based on your anticipated tax refund and the IRS will send your refund directly to your lender.
Loans Based on Tax Return
The IRS does not provide early income tax loans, but there are many financial institutions that offer loans secured by the borrower's expected income tax refund. The IRS refers to this type of transaction as a refund anticipation loan; they're also known as tax refund loans. When you apply for this type of loan, you agree that the IRS will send your refund directly to the loan provider instead of to you. Like any other type of loan, you will probably be required to pay interest.
Some tax refund loans must be repaid within a limited length of time, which means you may be subject to a fine if your tax return processing is delayed. Since the IRS does not guarantee that a return will be processed in a specific amount of time or that a refund will be made in its entirety, loans with unreasonably limited terms should be avoided. Also, the IRS restricts tax refund loan providers from basing fees on a percentage of an anticipated refund or from using any figure from a taxpayer's return to determine loan fees. Instead, the provider must charge all borrowers the same fees.
Interest-Free Tax Refund Loan
The exception to a normal tax refund loan is offered by some tax preparers in the form of a tax refund loan with 0 percent interest. For example, H&R Block offered an interest-free refund advance loan of up to $3,000 in the 2018 tax season. The loan was available to customers who had their returns prepared by the company and had the remainder of their return applied to an H&R prepaid MasterCard. However, the H&R Block loan was a limited-time offer and was discontinued after the 2018 tax season. If it's offered again or you find another tax preparer offering a similar no interest refund loan, you should take into account the amount you will be required to pay in tax preparation fees compared to the interest saved.
2018 Tax Law
Tax refund loans are usually available only in the beginning of the tax season. They are attractive to taxpayers who want to file their taxes early and who claim the earned income credit or another tax credit. The IRS often delays payments to these filers until after the end of February, leading some taxpayers with low and moderate incomes to turn to tax refund loans. For the 2018 tax year, such loans should start appearing in early 2019.
References
Writer Bio
Catie Watson spent three decades in the corporate world before becoming a freelance writer. She has an English degree from UC Berkeley and specializes in topics related to personal finance, careers and business.