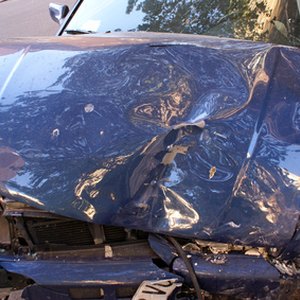 •••
Coche accidentado image by quicolopez from Fotolia.com
According to the California Department of Motor Vehicles, California has approximately 23 million licensed automobile drivers and 33 million registered vehicles on its roads. State law requires all drivers to have liability automobile insurance or other financial arrangements to cover responsibilities in the event of an accident. Liability insurance pays for injuries or damages related to an accident caused by persons covered on a policy. California insurance laws feature specific requirements for all drivers and insurance companies selling automobile insurance in the state.
Legality
Financial responsibility laws mandate automobile accident liability in California. As of September 2010, drivers must carry written proof that they can cover up to $35,000 of financial responsibility for an automobile accident for which they're at fault. Drivers can comply with these requirements by purchasing liability insurance, making a deposit with the Department of Motor Vehicles (DMV) in the amount of $35,000, obtaining a certificate of self-insurance from the DMV or carrying a $35,000 surety bond. The majority of drivers opt to purchase liability insurance to meet the requirement. Insurance companies provide written proof of insurance to their policyholders.
Vehicle Registration and Financial Responsibility
The DMV administers financial responsibility laws governing automobiles. The department will not register a vehicle or issue vehicle license plates without proof that the automobile meets financial responsibility requirements.
Minimum Liability Insurance
The DMV establishes minimum coverage limits for drivers who opt to buy liability insurance to meet financial legal requirements. California drivers must have a minimum of $15,000 bodily injury insurance to cover the injuries or death of one person in a single accident. Drivers must have up to $30,000 in coverage to pay for injuries to multiple persons in a single accident. A driver must also carry $5,000 in property damage liability insurance to pay for damages to another person's property.
Notification
Companies selling automobile insurance in California must report the insurance status of all private-use vehicles to the DMV. The law also allows California law-enforcement agencies and the California courts to have access to insurance status data. The DMV can monitor vehicle coverage and take action against drivers who don't comply with the law.
Penalties for Noncompliance
Drivers who don't comply with the law can face a fine of up to $500 and the loss of their driver's license. Persons who falsify proof of financial responsibility can face a fine of $750, go to jail for 30 days and lose their driver's license for one year. The DMV can also impound a vehicle and suspend its registration for noncompliance. In addition to fines and penalties, drivers who don't comply with the law can remain financially responsible for damages and injuries they cause in an accident.
References
Writer Bio
Michael Evans graduated from The University of Memphis, where he studied photography and film production. His writings have appeared in numerous print and online publications, including International Living, USA Today, The Guardian, Fox Business, Yahoo Finance and Bankrate.