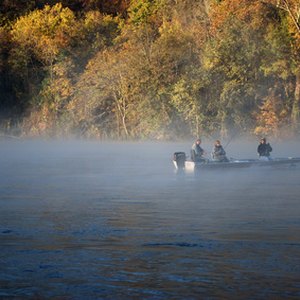 •••
Fishing on the White River at Bull Shoals, Arkansas image by Jackie DeBusk from Fotolia.com
According to the Arkansas Game and Fish Commission's Boating Laws and Responsibilities Handbook, boating insurance, boat registration and proof of personal property tax payment is required by law at the time of watercraft registration. Liability boating insurance, which protects the policy-holder against damages his watercraft causes to others boaters or vessels on the water, is required for all 50 horsepower-or-higher watercraft.
Liability Coverage Limit
Boating liability insurance in the state of Arkansas must cover a minimum of $50,000 in damages per incident, per watercraft. However, if the watercraft is operating on Arkansas waters but is insured in another state, the state in which the boat is registered will mandate the liability coverage minimums. Only liability boat insurance coverage from an Arkansas-licensed insurance company may be used, and proof of liability coverage must be carried on board at all times.
Lowering Your Liability Coverage Premium
While all 50 horsepower-plus watercraft owners in Arkansas must be liable for a minimum of $50,000 in coverage, premiums will vary based on the individual boating insurance broker's rates. To lower your boating insurance premium, the Arkansas Boating Laws and Responsibilities Handbook recommends boater education certification, which will lower your insurance premiums upon completion. Boater Education Certification is available both online or in person at Arkansas Game and Fish Commission offices. If you were born after January 1st, 1986, boater education is mandatory in the state.
Other Boaters' Liability Requirements
According to the website USCGBoating.org, Arkansas, Utah and South Dakota are the only three states int the country that require liability boating insurance. This means that as an Arkansas boater, you are protected against damage another boater with an Arkansas-registered watercraft inflicts on your vessel or passengers, but not if they are registered in another state. Additional boating insurance coverage may be needed to protect against personal injuries on the water, particularly if you frequent areas with out-of-state watercraft.
References
Writer Bio
Leah Waldron is the head of Traveler Services at First Abroad, a gap year travel company based in Boston and London. As a travel, research and LGBT news writer, Waldron has publication credit on magazines and newspapers including "Curve Magazine," "USA Today," "The Sun Sentinel" and the "The Houston Chronicle." Waldron has a bachelor's and master's degree in creative writing from Florida State University.