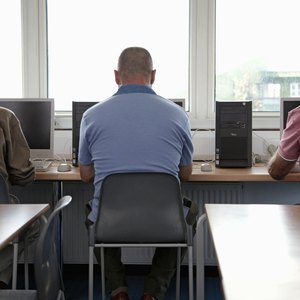 •••
Ableimages/Digital Vision/Getty Images
The Housing Choice Voucher Program, formerly known as Section 8, provides housing assistance to low-income, disabled and elderly persons. Vouchers enable recipients to obtain housing at an affordable cost. In Cincinnati, applicants can apply for vouchers once the waiting list is open.
Housing Choice Voucher Program
Voucher recipients are not limited to subsidized housing projects, but are permitted to live anywhere that meets program requirements, including apartments, single-family homes and townhouses. Although the Housing Choice Voucher Program is a federal one, it is administered at the local level by public housing agencies.
In Cincinnati, it is run by the Cincinnati Metropolitan Housing Authority. Once a voucher recipient finds a place to live and signs a lease, the CMHA pays a portion of the rent in the form of a housing subsidy sent directly to the landlord while the recipient pays any balance left over.
Income Requirements
The CMHA determines eligibility for the voucher program. In most cases your household's gross annual income -- earnings before taxes and other deductions -- must be less than 50 percent of the median income for families of the same size in the Cincinnati-Hamilton County area. In a few instances, however, it can be up to 80 percent of the median income.
Your household falls into the "extremely low income" category if its income is 30 percent or less of the median income. Meanwhile, 50 percent or less is designated as "very low income" and 80 percent or less is designated "low income." For example, as of 2018 if your household size consists of four people, your household is considered "extremely low income" if its total yearly income is $23,500 or less, "very low income" if it is $39,150 or less, and "low income" if it is $62,650 or less.
Application Procedure
You can apply for the Housing Choice Voucher Program when the waiting list is open, which is announced on the "How to Apply for a Housing Choice Voucher" page of CMHA's website. You must submit a pre-application to CMHA, located at 1635 Western Avenue, Cincinnati, OH 45214. Your name will be added to a random lottery. If you are chosen from the lottery pool, the CMHA will notify you by mail and add your name to the waiting list.
You will also be notified by mail when your name rises to the top of the list. At that time, the CMHA will request income and household information from you to confirm your eligibility for the housing voucher. Once the CMHA does so, you will be invited to a briefing and issued a voucher shortly after. The CMHA estimates it can take one to five years to move up the waiting list and receive a voucher.
Rental Unit
Once you receive a voucher, you have 90 days to find a residence. The CMHA provides a searchable database of qualifying rentals on its website at http://cmha.gosection8.com/. Once you find a new residence, you and your new landlord must complete a Request for Tenancy Approval form and send it to the CMHA.
The CMHA reviews the information provided and conducts an inspection of the residence to confirm you qualify for it and that it meets program requirements. Once approved, the CMHA notifies you and the landlord and also executes a separate contract with the landlord to ensure compliance with CMHA and U.S. Department of Housing and Urban Development rules and regulations. Subsidy payments are then issued regularly upon move-in.
References
Writer Bio
Based on the West Coast, Mary Jane Freeman has been writing professionally since 1994, specializing in the topics of business and law. Freeman's work has appeared in a variety of publications, including LegalZoom, Essence, Reuters and Chicago Sun-Times. Freeman holds a Master of Science in public policy and management and Juris Doctor. Freeman is self-employed and works as a policy analyst and legal consultant.