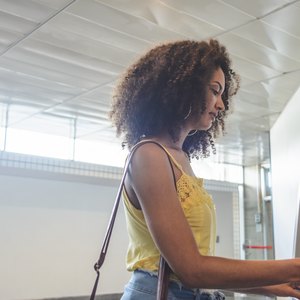 •••
wagnerokasaki/iStock/GettyImages
If you're tired of your local or online bank charging you all sorts of fees, then Chime Bank may be your answer. Chime Bank is an online bank that prides itself on having no fees. That's right. No monthly maintenance fees and no overdraft fees.
If not having any bank fees interests you, read on.
What is Chime Bank?
Chime Bank is a mobile-only, online banking alternative to traditional banks. Chime does not have any brick-and-mortar branches, so there's no live face-to-face contact. You can download their app for either Android or iPhone.
Chime partners with two other banks, Bancorp Bank and Stride Bank, to offer checking and savings accounts and a debit card. All accounts are insured by the FDIC up to ​$250,000.​
You can use a Chime account to send money online, write paper checks with their Checkbook app and use their Visa debit card to make purchases.
The best news is that Chime does not charge any monthly maintenance fees or even charge for overdrafts.
Benefits of a Chime Account
Opening a checking account – Chime calls it a Spending Account – with Chime is easy. Just download the app and provide the following information:
First and last name
Email
Home address
Phone number
Social Security number
A Chime spending account is fee-free. There are no monthly fees and no minimum balance requirements.
You also get a Visa debit card with access to ​38,000​ no-fee ATMs through the Money Pass and Visa Plus Alliance systems. However, using an out-of-system ATM can be costly. You'll pay a fee to that ATM's operator, plus Chime will charge you a $2.50 fee.
You can link your Chime debit card to Apple Pay or Google Pay mobile wallets if you use those apps.
If you receive your paycheck with direct deposit, Chime has an extra benefit. You can get your funds up to two days early. Just make the choice when setting up direct deposit into your spending account and Chime will make the funds available as soon as your employer makes the deposit.
Direct deposits of at least ​$500​ per month make you eligible for another Chime service: the SpotMe overdraft feature. SpotMe allows you overdrafts up to ​$20​ on debit card purchases with no overdraft fees. Chime covers your overdrafts with future deposits. And if you handle your account properly, Chime may, at their discretion, increase your overdraft allowance up to ​$100.​
Although Chime does not charge any fees for overdrafts, they do give you the option of leaving a "tip" whenever you have an overdraft. Chime uses these tips to cover the costs of providing this fee-free overdraft service to its members. Leaving a tip is strictly voluntary and does not affect your overdraft privileges.
Need to send a paper check? If you've had a Chime account for at least ​30 days​, just fill in the details on your mobile app and Chime will mail the check for you. The bank has a limit of ​$5,000​ per check and no more than ​$10,000​ in a calendar month.
How to Add Money to a Chime Account
Here are the ways you can add money to a Chime spending account:
Receive a direct deposit from your employer
Transfer funds from an external bank account that is linked to your Chime account
Deposit a paper check with the mobile app
Make a cash deposit at a GreenDot retailer location
Although many online banks will not accept cash deposits, Chime gives you the option to make a cash deposit at any of the 90,000 GreenDot retail locations, such as 7-Eleven, CVS, Walgreens, Kroger and Family Dollar. However, GreenDot may charge up to ​$4.95​ for each deposit transaction. If you make a lot of cash deposits, these charges can become prohibitively expensive, and a Chime account may not be the best choice for you.
Benefits of a Chime Savings Account
As with the spending account, Chime's savings account does not have any monthly fees or require a minimum balance. Their savings account is currently paying 1 percent interest on balances.
The Chime saving account has two optional savings programs to make saving money easier.
Their Save When You Spend feature lets you save a small amount of money whenever you make purchases with your debit card. Whenever you use the Chime debit card, the bank will round up the transaction to the nearest dollar and transfer the difference to your savings account.
Let's say you spend ​$25.55​ at the grocery store. Chime will debit your spending account for ​$26​, pay the store ​$25.55​ and move ​$0.45​ to your savings account. This may not seem like much, but these small amounts will add up every time you make a debit purchase. The more purchases you make, the more money you will save. But the bank does have a maximum annual limit of ​$500​ of these savings transfers. However, you'll have to make nearly 1,000 purchases before you bump into the maximum limit.
The other option is a Save When I Get Paid feature. This feature lets you set up a recurring transfer up to 10 percent from each direct deposit of your paycheck.
Chime Credit Builder Feature
If you've had some credit problems in the past and are trying to rebuild your credit history, the Chime Credit Builder feature will help. This feature lets you transfer money from your spending account to your Chime Visa credit card, creating a secured credit card. Chime will then report your payments to all three major credit bureaus. Even better, this secured card charges 0 percent interest.
Chime's Second-Chance Banking Option
The banking industry uses a program called ChexSystem to check out a customer's checking account history before opening a new account. If you have had banking problems reported to ChexSystems in the past, you could be prevented from opening a new bank account for up to 5 years.
However, Chime won't hold your past mistakes against you. Chime will open a new account for you even though you have bad marks recorded in the ChexSystems.
Chime believes in giving people a second chance even if they've been locked out of the traditional banking system. Not many banks will give people the opportunity to rebuild their financial history after they've been reported to ChexSystems.
Chime Bank could be a good choice if you're already familiar with mobile-only banking and don't need personal banking service. Not having any bank fees is certainly attractive, but be careful of the high charges for making cash deposits.
References
Writer Bio
James Woodruff has been a management consultant to more than 1,000 small businesses. As a senior management consultant and owner, he used his technical expertise to conduct an analysis of a company's operational, financial and business management issues. James has been writing business and finance related topics for work.chron, bizfluent.com, smallbusiness.chron.com and e-commerce websites since 2007. He graduated from Georgia Tech with a Bachelor of Mechanical Engineering and received an MBA from Columbia University.