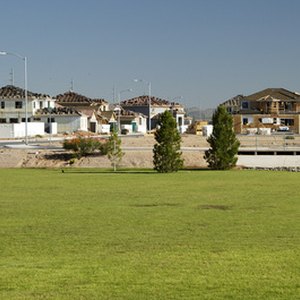 •••
new home construction image by Jim Parkin from Fotolia.com
The Revised Code of Washington defines a homeowners association (HOA) as a legal entity in which each member owns residential real property within the association's jurisdiction, often a subdivision or condominium complex. Governing documents outline the association's bylaws, regulations and declaration of covenants, conditions and restrictions, commonly called CC&Rs. Homeowners associations usually are operated by a board of directors that collects dues for common expenses and maintenance of the community's common areas.
Lagoon Point Homeowners Association
Lagoon Point is a residential community located on Whidbey Island, northwest of Seattle. The community includes waterfront properties on Puget Sound's Admiralty Inlet, as well as homes on inland canals to provide private boat moorage and access to the Sound. Homes on the hillside have sweeping water and mountain views. The Lagoon Point Community Association provides a boat launch and dock for its members' use. As of 2009, the association's bylaws detailed membership qualifications, fees and assessments, terms of office and meetings. Committees are responsible for a variety of areas, including dues, waterways and environment and public improvement.
Lagoon Point Community Association P.O. Box 123 Greenbank, WA 98253 360-222-3182 lagoonpoint.com
Timberton Village Homeowners Association
Located west of Seattle in Port Ludlow, Timberton Village is a community of 78 homes ranging from cottages to expansive homes with views of Puget Sound. The Timberton Village Homeowners Association is governed by a volunteer board of directors that oversees the business of the village, according to the association's website. Homeowner members are assessed dues each quarter to pay for common-area expenses, liability insurance premiums, common utilities and roadside maintenance. The association documents also detail easement and rights of enjoyment in common areas and residential use.
Timberton Village Homeowners' Association P.O. Box 65218 Port Ludlow, WA 98365 timberton.org/
Kentlake Highlands Homeowners' Association
The goal of the Kentlake Highlands Homeowners' Association is to maintain a pleasant, inviting and friendly community, according to the association's website. The neighborhood is located near Lake Sawyer in the city of Kent, approximately 28 miles southeast of Seattle. When someone purchases a home in the community, she receives a copy of the CC&Rs; supplemental community rules are governed by the association's Property Improvement Committee. This committee must approve all changes to the exterior of homes within Kentlake Highlands, including fences, sheds, tree houses, play structures and dog runs. Homeowners are advised to remove holiday decorations within 30 days of the event and to keep their properties clean and in good order. The association is operated by a community association management company.
Kentlake Highlands Homeowners Association CDC Management Services, LLC 2115 S. 56th St., Suite 304 Tacoma, WA 98409 253-472-0825 kentlakehighlandshoa.org
References
Writer Bio
Michelle Hornaday lives in Edmonds, Washington and holds a Bachelor of Arts degree in English from Washington State University and a Master of Education from Northern Arizona University. She is currently a freelance writer for various websites.