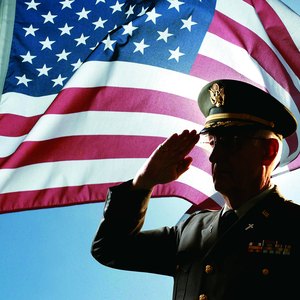 •••
Jupiterimages/liquidlibrary/Getty Images
The U.S. Department of Veterans Affairs -- often referred to simply as "the VA" -- provides a variety of services to veterans and active servicemen and women. VA benefits extend to all U.S. military personnel and, in some cases, their family members. One benefit the VA provides to active and retired military personnel comes in the form of low-cost or free housing benefits. For those interested in purchasing a home, special loan programs are also available solely for military members and their families.
Homeless Veterans
The VA Supportive Housing Program and the U.S. Department of Housing and Urban Development sponsor a program to provide housing for homeless veterans and their families. The HUD-VASH program provides eligible recipients with housing vouchers through the Section 8 housing program. Through Section 8, homeless veterans can use their housing vouchers in place of paying rent in any private rental home or apartment complex that accepts such vouchers.
If you qualify for the HUD-VASH program, you must work with a case manager who helps you take advantage of other care services provided by the VA, such as substance abuse recovery programs. Convicted sex offenders are not eligible to participate in the HUD-VASH program.
VA Loans
Active and retired military members who meet basic credit and income guidelines can qualify for a VA home loan. These loans are guaranteed through the U.S. Department of Veterans Affairs and carry numerous benefits often absent from traditional mortgage loans. VA loans, for example, do not require that you pay a down payment or private mortgage insurance. The VA also limits the amount of closing costs the lender can charge, reducing the upfront costs of the loan. You don't have to be a first-time homebuyer to take advantage of this program and, should you opt to pay off your mortgage early, your lender cannot charge you a prepayment penalty.
Housing Adaptation Grants
Veterans who suffer from severe disabilities, such as blindness, the loss of one or both limbs or severe burns, may require special housing adaptations to accommodate their disabilities. The Specially Adapted Housing grant and the Special Housing Adaptation grant provide disabled veterans with the assistance they need to live comfortably.
If you suffer from one of the program's qualifying disabilities, the SAH grant provides funds for you to construct a home that meets your specific needs. If you already have a specialized home, you can apply the SAH grant to your existing mortgage balance. The SHA grant differs from the SAH grant in that it provides you with the funds necessary to modify an existing home or purchase a previously modified dwelling.
Relocation Assistance
If you can no longer afford the mortgage payment on your VA home loan, there are options available to help you avoid foreclosure. If you take advantage of the foreclosure alternatives available to you but still lose your home, you may be eligible for relocation assistance. The VA provides veterans and active-duty military members with some cash relocation assistance after losing a VA-guaranteed home to a short sale or deed-in-lieu agreement. You can apply the benefit to moving expenses, alternate housing or any other relocation expense.
References
Resources
Writer Bio
Ciele Edwards holds a Bachelor of Arts in English and has been a consumer advocate and credit specialist for more than 10 years. She currently works in the real-estate industry as a consumer credit and debt specialist. Edwards has experience working with collections, liens, judgments, bankruptcies, loans and credit law.