University Swimming Scholarships
by Lynne Haley Rose ; Updated July 27, 2017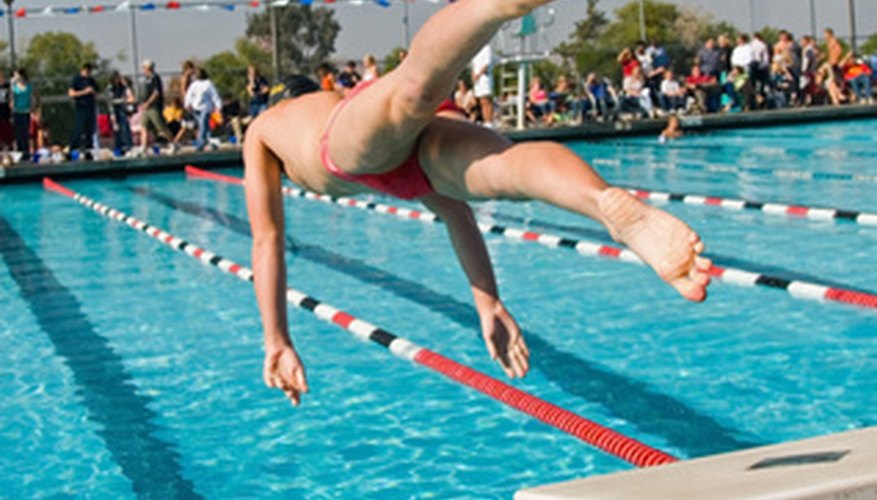 If you are a competitive swimmer who intends to continue with the sport in college, you may be eligible for a full or partial swimming scholarship. By familiarizing yourself with university swim programs and knowing the basics of swimming scholarships, you can determine whether the college of your choice may offer you a ride.
College Sports Associations
University swim teams compete in one of three collegiate athletic associations. NCAA (National Collegiate Athletic Association) is the largest, including more than 1,200 universities across three divisions, with Division I schools having the most scholarship funds available to athletes. NAIA (National Association of Intercollegiate Athletics) includes about 300 schools in 25 conferences throughout the U.S. and Canada. NAIA schools are typically smaller than NCAA institutions, but many have excellent athletic programs and several offer scholarships. NJCAA (National Junior College Athletic Association) offers some scholarships.
Number of Scholarships
NCAA rules allow Division I universities to award up to 14 full scholarships for women's swimming and diving teams per school, and up to 9.9 men's scholarships per school. While a particular school's finances determine how many scholarships it will extend, if each of the 200 NCAA Division I women's swim teams awarded the maximum 14 scholarships, that's around 2,800 scholarships up for grabs. When you do the math for the men -- 9.9 times about 140 teams -- it adds up to 1,386 scholarships. Consider, however, that NCAA Division I universities typically attract the top athletes in each sport, so the competition for those scholarship funds is fierce.
What Coaches Look For
To compete for a full or partial university swimming scholarship you should be aware of college coaches' general criteria. Of course, a primary benchmark coaches use is your past record. Recent wins with times that are competitive at the college level will stand you in good stead. Your potential for improvement is also important, which coaches may determine by looking at your development throughout your high school swim career. Coaches like versatile swimmers who can compete in more than one distance and stroke, but sometimes a coach may be looking for a swimmer to plug a leak in the team roster, such as a distance specialist. University coaches often give special consideration to good swimmers who demonstrate leadership and scholarship in addition to a good technique in the pool.
A Competitive Edge
If you already have a short list of colleges that are a good academic fit with your goals and abilities and would like to explore the possibility of a swimming scholarship, consider making yourself known to the swimming coach. Introduce yourself in a friendly email and don't be afraid to include some of your best race stats. Send the coach updates when you better your times. Ask your high school coach to email an informal recommendation to your prospective college coaches. Visit the colleges you like, and include an appointment with the swim coach to discuss the possibilities.