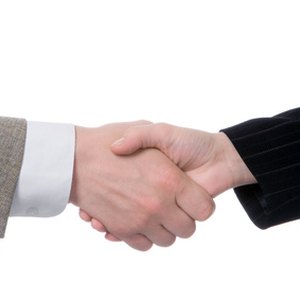 •••
handshake image by Anatoly Tiplyashin from Fotolia.com
Buy-sell agreements provide for the future sale of the business interest of a shareholder who dies, becomes disabled or retires. Buy-sell agreements are beneficial to business partners because they predetermine how shares of the company will be handled in the event that a shareholder leaves the company. They are also beneficial to the shareholder who leaves the company because it gives his family financial security. The types of buy-sell agreements vary.
Entity Buy-Sell Agreement
The entity buy-sell agreement requires that the company itself agrees to puchase a deceased shareholder's share of the company. It requires that the company purchases a life-insurance policy on the life of the shareholder. The amount of the policy should be equal to the amount of the shareholder's share of the company. After the shareholder dies, the cash amount of the life-insurance policy will be added to the shareholder's estate. The shareholder's interest will then be transferred to the company.
Cross-Purchase Buy-Sell Agreement
The cross-purchase agreement is the most basic of all the buy-sell agreements. This method of buy-sell transactions exists between all shareholders but does not involve the company itself. Usually, the purchase of the shares is financed by the life insurance that was held on the deceased shareholder. The insurance is owned by the individual shareholders but it can also be held by a trustee on behalf of the individual shareholders. The shareholders must agree to pay the premiums. This agreement requires that either the shareholders or trustee is the beneficiary on the policies.
"Wait and See" Buy-Sell Agreement
A wait-and-see buy-sell agreement is an agreement that requires both the company and the business owners agree in advance to purchase the remaining business interest of the deceased shareholder. The price of each share is usually predetermined. This means that the shareholders are bound by contract to pay the amount agreed upon. After a shareholder has died, the company is given the first chance to purchase the business interest. After the company has its chance to buy the initial share, the business owners are then given the opportunity to purchase any remaining interest. The company must then purchase any business interest that was not purchased by the business owners.
Disability Buy-Sell Agreement
The disability buy-sell agreement stipulates that shareholders must agree to purchase the shares of any shareholder who becomes disabled. This agreement can be set up as an entity or cross-purchase agreement.
References
Writer Bio
Based in Memphis, Tenn., Elizabeth Martin started her writing career in 2009. She has served as a marketing specialist and created print advertisements for her company's clientele. Martin holds a Bachelor of Arts in political science from the University of Memphis.