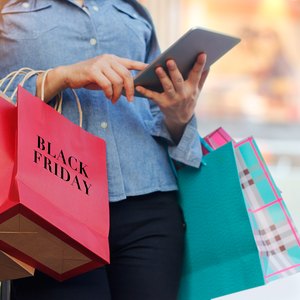 •••
ipopba/iStock/GettyImages
As the busiest shopping day of the year, Black Friday's shopping events have the potential to save you a lot of money. But how do you know you're actually getting the best deals on your shopping trips? Reading through hundreds of pages of Black Friday ads or seeing appealing price signs at stores can make it tempting to make a purchase quickly. You might even feel the need to buy what you didn't plan to simply because something looks inexpensive. To shop the smart way, check out these seven tips to help you prepare for a successful shopping experience and maximize your Black Friday savings.
1. Create a Black Friday Shopping Plan
Without planning your shopping, it's too easy to miss out on the best deals and not budget your money well. Before you even start looking at those Black Friday ads, come up with a specific budget for your gifts along with some ideas of what to buy. You can then use a website like BestBlackFriday.com to explore Black Friday deals a few weeks before the sales event and plan where and when you should shop. Also, look at product reviews so that you don't waste your money on a poor product just because it has a good price.
2. Don't Limit Yourself to Only Friday
Did you know that popular retailers such as Target and Walmart start their holiday sales long before Black Friday? These preview sales give you access to many Black Friday deals so that you can beat the crowds and lessen the frustration of things going out of stock. Since Black Friday shopping has taken over Thanksgiving evenings at many retailers, you can also consider doing some shopping online or locally after your dinner since you'll often find special deals that last through midnight. In fact, CNBC reports that Thanksgiving has become the more appealing shopping day to save big.
3. Know About Store Price Guarantees
Have you ever bought something on Black Friday and realized another retailer actually offered a lower price? You might also have found a great price just to find the item was out of stock. Rather than settling on the higher price, know that popular retailers such as Home Depot, JCPenney, Michaels and Lowes are among stores that price match Black Friday specials. Others such as Best Buy, Kohl's, Target and Walmart will price match certain competitors' online prices in general. So, check the store policy before you head to the checkout and bring competitors' ads, too.
4. Always Compare Prices Before You Buy
When you're in a frenzy of Black Friday shopping, it's easy to just go after that flashy doorbuster deal and think you're getting the best deal on holiday gifts. But not so fast! That doorbuster deal might actually be close to the usual price at another store, and an online retailer may have it for even less. Install a price checking app like ShopSavvy or ScanLife on your phone to scan the product's bar code and see the current sales price at numerous retailers. You can also check out the PriceGrabber website to instantly find the cheapest retailer for a product.
5. Take Advantage of Rebates and Store Promotions
While you certainly want to find the best price, don't just consider the price alone when deciding to buy something. The manufacturer or store might actually have an online or mail-in rebate available that you can stack on top of the Black Friday deal for extra savings. At the same time, stores may offer rewards points, coupons or cash back for purchases on Black Friday. For example, you can receive $15 worth of Kohl's Cash for every $50 you spend at the store this Black Friday week. You can use this toward future Kohl's purchases without any brand exclusions.
6. Time Your Shopping Trips Wisely
Visiting a store on Black Friday alone often isn't enough to score the best deals. Thanks to early bird sales and doorbuster deals, you usually need to arrive early during the day – and maybe even on Thanksgiving evening – to get the best savings. If you plan to visit several brick-and-mortar stores, you risk missing out if the store uses a ticketing system that only allows a certain number of people to get an advertised deal. So, check sales hours and be prepared to come up with a detailed schedule for each stop so you don't miss out.
7. Consider Shopping for Black Friday Online
Did you know that doing your Black Friday shopping online not only gets rid of the hassle of crowds and traffic but can actually help you maximize your savings? For example, Amazon offers Lightning Deals regularly with even more special savings for Black Friday week and Cyber Monday. You can also win big with traditional retailers that usually have a larger inventory of their discounted products online than at their physical locations. Some sales may start sooner too, and you can use online cashback programs like Rakuten to save even more.
While holiday shopping usually doesn't come cheap, using these seven tips will help you stick to your budget and not miss out on the best Black Friday deals. While you'll need to do some extra work rather than just start filling your cart, you'll find it will literally pay off and also save you some stress this holiday season. So, go start planning for a successful Black Friday 2019!
References
Writer Bio
Ashley Donohoe has written about business and technology topics since 2010. Having a Master of Business Administration degree, bookkeeping certification and experience running a small business and doing tax returns, she is knowledgeable about the tax issues individuals and businesses face. Other places featuring her business writing include Zacks, JobHero, LoveToKnow, Bizfluent, Chron and Study.com.