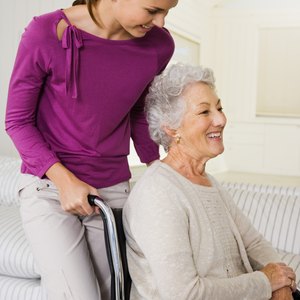 •••
Jupiterimages/Pixland/Getty Images
Almost 25 percent of California's families must deal with the challenges of caring for a loved one with a serious ailment such as dementia, stroke or paralysis. Caregivers give their time and energy and may even risk their own jobs and work-related health benefits in order to provide needed care for a close relative. The state of California has financial and informational resources that help these caregivers.
In-Home Supportive Services
California's In-Home Supportive Services (IHSS) program supplies monthly cash benefits, which enable state residents who are blind, disabled or at least age 65 to hire help with laundry, housecleaning, meal preparation and personal care. The extra help allows recipients -- who must have income and assets within certain limits -- to remain in their own home rather than move to a nursing home. You can qualify to receive the IHSS salary if you are caring for your mother. Contact your local county Department of Social Services (DPSS), which administers administers the program.
Paid Family Leave
If you are an employee in the state of California, then your employer must withhold State Disability Insurance (SDI) premiums from each paycheck. SDI pays benefits to California workers when they cannot work due to illness or injury. An additional benefit – Paid Family Leave (PFL) – will pay you SDI benefits for up to six weeks during a 12-month period, if you must leave work in order to care for your elderly mother. Weekly SDI benefits can be as high as $987, at the time of publication, depending on the covered employee's salary. Your mother's condition must meet a certain level of severity in order for you to qualify for PFL.
Special CalWORKs Eligibility for Caregivers
CalWORKs is California's name for Temporary Assistance to Needy Families. The program provides cash assistance to low-income families. Adults may receive monthly benefits if they care for eligible minor children. Nondisabled adults have a lifetime limit of 60 months of benefits. If, however, you are eligible for CalWORKs and care for your elderly mother, then the 60-month limit may not apply. You can continue to receive cash assistance for yourself and your dependent children indefinitely.
Caregiver Resource Centers
California has established a statewide network of 11 Caregiver Resource Centers for individuals who provide personal care services to relatives with serious physical problems such as Alzheimer's or Parkinson's disease. The centers have trained staff to guide you on resources available to caregivers. The centers may arrange for temporary assistance to give you some time off from the stress of caring for a sick loved one. The local resource center will also provide workshops on patient care, legal issues such as obtaining power of attorney and guidance on getting the proper health care for your mother. Services are at little or no cost to you.
References
Writer Bio
Jane Amar received a Bachelor of Arts in Spanish language and literature from the University of California in Riverside in 1970. After more than 37 years in government service in management and technical positions, she retired and began her writing career. Since 2007 she has written online content in English and Spanish for profit and nonprofit services and individual entrepreneurs.