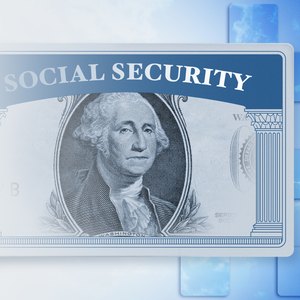 •••
Comstock Images/Comstock/Getty Images
When you receive a Social Security benefit award letter, you learn about the amount of money you will receive monthly, if your fund doesn't change, when you apply for benefits. The Social Security Administration tracks your compensation and contributions to arrive at a monthly benefit amount, depending on what age you choose to retire. The older you choose to retire and receive benefits, the higher your monthly check will be. Disability can also generate monthly benefits.
Earnings
Your career earnings dictate the amount of your Social Security monthly benefits. If your consistent earnings are as a W-2 employee or a self-employed person, you'll contribute dollars to your Social Security fund annually. Should you have significant gaps in employment, your benefits will be reduced accordingly. However, if you've consistently been employed, your Social Security fund will regularly increase. While your monthly earnings are capped by Congressional law, you can increase your benefits by remaining employed.
Social Security Fund
Since President Roosevelt established the Social Security fund in 1934, the fund began in the "red," reducing the chances that it would earn sufficient profits to eliminate potentially fatal investment strategy flaws. Since the government authorized immediate payments, without benefit of years of investment balances, the Social Security fund has always been "in the hole." To date, however, the government has kept its promise of providing income to retirees that have a track record of working and contributing to the U.S. economy.
Award Letters
Award letters serve multiple purposes. They tell you what you should receive as a monthly benefit from Social Security. Additionally, these letters can serve as proof that you're receiving these benefits for loan and mortgage applications, assisted housing, Medicare or Medicaid benefits and retirement status inquiries. If you've reached retirement age, your award letter is an accurate notification of the monies you'll receive beginning on the date you choose to receive benefits.
Social Security Awards
Congress determines the formula for calculating your benefit amount from Social Security. Historically, the amount of your award benefit letter depends on this Congressional action, inflation and current economic conditions. Many Baby Boomers, while still working, were skeptical that Social Security would be able to offer benefits when they retired. While the Social Security award limits have fallen behind long-term inflation conditions, these benefits are still there, clearly stated in award letters to recipients.
Personal Information
Keep your personal information, particularly your most recent address, up-to-date with the Social Security Administration, if you want to receive award letters and benefits. The SSA secure website and trained personnel will protect your personal information from attack and give you accurate information on your future monthly Social Security benefit amounts, which will automatically be transferred to the bank account you've registered with the Administration.
Disability Awards Letters
If you've suffered a temporary or permanent disability, Social Security may offer monthly benefits to you. A benefits award letter will state the monthly amount you'll receive from the government and how long this income will be paid. Should you suffer temporary disability, your monthly payments will continue until you're able to return to work. Total and permanent disability will generate an awards letter that specifies the amount Social Security will pay you or as long as you live.