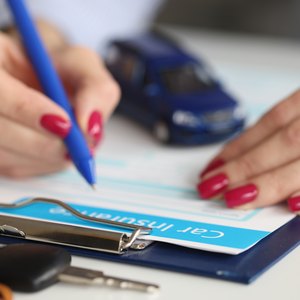 •••
megaflopp/iStock/GettyImages
Whenever you rent a vehicle, you'll likely get asked if you want to add on some rental car insurance before the rental agency hands over the keys. Like regular car insurance, this protects you from financial trouble if you have an accident or experience losses. Whether you need to purchase this insurance depends on whether you already have coverage elsewhere, how you pay for the car rental and what type of regular car insurance policy you have. Take a look at which different types of rental car insurance are available, whether you need them and how to buy coverage.
Auto Insurance Needs for Renters
To drive any car on the road, you need to at least have the state minimum level of coverage, either through a car insurance policy or alternative option your state allows – both to avoid financial damages and other consequences if you get into an accident. According to the Insurance Information Institute (III), you'll find that your state will have limits for different kinds of coverage that you need to obtain. In some cases, you can simply show that you have enough money to meet those requirements if your state has an insurance waiver option.
When renting a car, you should have liability coverage for physical damages and medical issues affecting other property and people along with comprehensive and collision coverage for any damage occurring to the car you're renting. Otherwise, you can end up owing the car rental agency a large sum of money. Further, you can face legal issues as well, since some form of car insurance is usually mandatory for rentals.
Is Rental Car Insurance Necessary?
If you're worried about paying extra for rental car insurance, the good news is that your regular car insurance coverage often follows you even if you're driving a rental car, so you can often save the money. The catch is that you probably need this extra coverage if your current policy only has liability coverage and excludes comprehensive and collision coverage. However, you might also want to take a look at the benefits you get through credit cards you have, since getting rental car insurance free might be as simple as using a specific credit card to pay for the rental.
There's more good news when it comes to covering valuables you might have inside the rental car. If those items get lost, stolen or damaged, your renter's or homeowner's insurance policy may offer protection. You need to check your policy and see if it covers items stored outside your home or apartment and then learn about any limit or deductible that applies.
Even if you do have the basic coverage, you still might consider looking into rental car insurance options since some of them might fill a gap that's important to you. For example, you can find extra coverage for things like towing and roadside assistance to get peace of mind. You might also want more liability coverage than your current policy has.
Exploring Rental Car Insurance Types
As you complete the car rental application, you may come across several types of rental car insurance options that have different names and wording than what you saw when you chose your personal car insurance policy.
Some of the widely available types of rental car insurance include:
​Supplemental liability insurance​: Hertz and most other rental companies offer this coverage to help pay for as much as ​$1 million​ in damages – both to property and people – you cause to others in an accident; it also applies to incidents where the other party lacked insurance. The liability portion of your personal car insurance would need to pay for anything over the ​$1 million​ limit.

​Personal effects and personal accident coverage​: Places like Enterprise and Budget combine these types of coverage, but others might sell them as separate options. While personal effects coverage pays for lost items in the car, personal accident coverage handles medical costs in an accident. Your renter's or homeowner's insurance policy can substitute for personal effects coverage, while personal injury protection on your car insurance policy can substitute for personal accident coverage.
​Loss damage waiver coverage​: A rental car company usually offers this coverage to help you avoid having to pay if someone steals the rental car or the car incurs damage in an accident. This coverage compares to collision and comprehensive insurance.
​Roadside assistance coverage​: While this isn't really insurance, it can help avoid additional costs if you get in a situation where the rental vehicle needs a tow or you run out of gas.
The III mentions that you might find some of these insurance options automatically included in your rental fee, especially if you rent a car through a car-sharing service versus a traditional rental car agency. In these situations, you should check any coverage limits or rules to make sure you don't have a costly surprise if you have an accident.
Researching Places to Get Insurance
If you've determined that you need rental car insurance because you don't have existing coverage through other means, you have some options for where to obtain coverage.
The most straightforward one is simply requesting coverage through the rental car agency or service. This can offer the most variety in coverage options since there's a good chance the rental company offers most of the common types of coverage. But while this might require less time and hassle, you might not get the best deal on car rental insurance either.
Getting car rental insurance through other sources can cost less, but you can end up with lower coverage amounts or not have as many options. For example, if you obtain car rental insurance through travel insurance companies like Allianz Travel, you can get your personal items and rental vehicle covered, but you can face costs if the damage goes over ​$40,000​ or you lose more than ​$1,000​ in personal items. American Express offers premium car rental insurance but doesn't offer additional liability coverage or uninsured motorist coverage.
Obtaining Rental Car Insurance
Once you've decided where to purchase rental vehicle insurance, the method for signing up for it can vary. If you're getting coverage through the rental car company, the website or an employee at the rental car counter asks you to you select the appropriate options, sign some forms and pay.
Buying car rental insurance through a travel insurer can require filling out a form online with information about your planned car rental and paying ahead of time.
The premium rental car insurance through American Express has you sign up for the product at any time before the rental, and it applies toward future rentals made with the card.
If you're planning to just take advantage of existing coverage through the insurance policies or credit cards you have, it's a good idea to check the terms and limits before you rent the car. That way, you'll be aware of any gaps in coverage and can obtain any necessary rental car insurance products before it's too late.
References
Writer Bio
Ashley Donohoe has written about business and technology topics since 2010. Having a Master of Business Administration degree, bookkeeping certification and experience running a small business and doing tax returns, she is knowledgeable about the tax issues individuals and businesses face. Other places featuring her business writing include Zacks, JobHero, LoveToKnow, Bizfluent, Chron and Study.com.