How to Send Money to Another Person
by Lisa Musser ; Updated July 27, 2017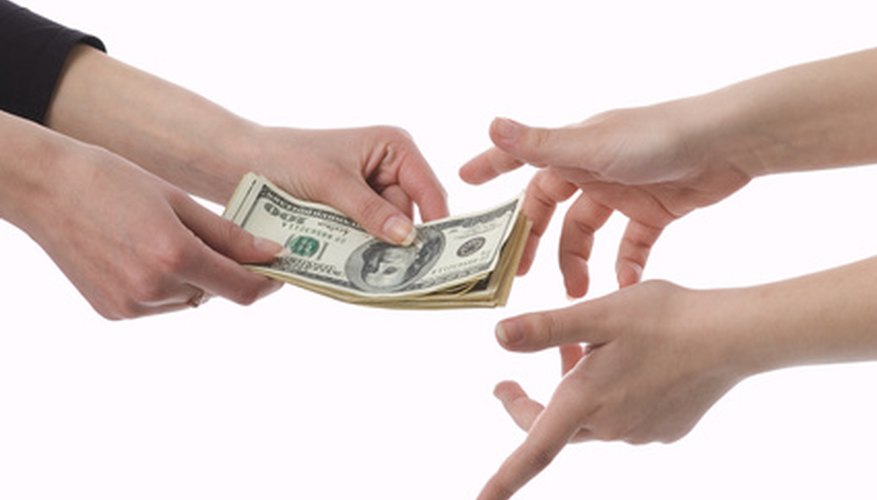 Sending money to another person has never been easier than it is now. There are many options available for sending money locally and around the world. Many people send money to loved ones for birthdays, anniversaries or to help in an emergency.
Step 1
Send it by mail. It seems like an antiquated process compared to the technological advances in business these days. It is not advisable to send money by regular mail, but it is relatively safe to send it in a package delivered by UPS. Packages sent by certified mail or UPS are insured and require a signature from the receiving party. Postal Money Orders are cashed at any post office or bank. The cost is from $1.10 to $1.50 each. The cost for express mail service is $18.30 and packages are insured for up to one hundred dollars.
Step 2
Send a wire transfer from a bank account. Bank of America accounts can send wire transfers in the United States for $24 and internationally for $45 dollars.
Step 3
Send money by Western Union. Western Union has many options available for sending money. Pick an option that suits your needs and your budget. See the Resource section below for information and state restrictions. Western Union transfers money to other countries as well as the United States. The fee for "Money in Minutes" is $12, Transfer to a bank is $8 and Next-Day Express is $8. The website has a price calculator to check prices for U.S. states and overseas transactions.
Step 4
Send Money by email or mobile with PayPal. PayPal is a secure way to send money or pay bills online. All that is required is an email address and a PayPal account linked to a credit card, debit card or bank account. The receiver will need to sign up for a PayPal account with a valid email address. The service is free.
Tips
If using Western Union write down the transaction number to keep for your records. If using a password be sure to let the receiving party know before picking up the money.
Photo Credits
money makes money image by Andrey Andreev from Fotolia.com