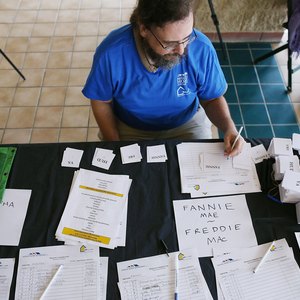 •••
Mark Wilson/Getty Images News/Getty Images
The Federal National Mortgage Association, better known as Fannie Mae, is a federally chartered corporation that is owned by shareholders. Fannie Mae works on the secondary mortgage market to ensure that there are funds available to consumers who wish to obtain mortgage loans. It does this by purchasing the rights to mortgage loans from lenders. Although you will still make payments to your original lender, it sends the money to Fannie Mae and, in essence, Fannie Mae owns your loan.
Visit KnowYourOptions.com/loanlookup. This site is operated by Fannie Mae Provide the requested information. You will need to add your first and last name, address, city, state, zip code and the last four digits of your social security number. Click the small box at the bottom of the form to confirm that you own the property and then click the brown "Get Results" button directly below the form.
Call Fannie Mae to inquire if it backs your home mortgage. To find the number, navigate to FannieMae.com, and click on the "Contact Us" link at the bottom of the page.
Call your lender or loan servicer to find out if Fannie Mae owns your loan.
Your mortgage lender may or may not tell you if Fannie Mae owns your loan.
References
Tips
Your mortgage lender may or may not tell you if Fannie Mae owns your loan.
Writer Bio
Based in the American Southwest, Bridget Kelly has been writing about gardening and real estate since 2005. Her articles have appeared at Trulia.com, SFGate.com, GardenGuides.com, RE/MAX.com, MarketLeader.com, RealEstate.com, USAToday.com and in "Chicago Agent" magazine, to name a few. She holds a Bachelor of Arts in English with a concentration in creative writing.