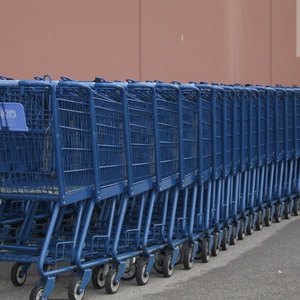 •••
grocery store image by robert mobley from Fotolia.com
Sears is the fourth largest retailer in the United States and Canada, according to its website. It is also the leading retailer in home appliances, tools and lawn and garden supplies. Through its various foundations, Sears also offers scholarships. The Sears Craftsman scholarship is just one of the many scholarships it offers. These scholarships are awarded to either students or employees of the Sears company, and provides funding for their post-secondary education.
Sears/Kmart/DECA Scholarship
This scholarship is for Kmart and Sears associates who are DECA members. They are eligible to win $1,000 scholarships. The scholarship is based on the associate's scholastic record, DECA activities, Sears/Kmart experience and leadership ability. Associates can use their scholarships to provide funding for any college or university they attend. They must majoring in retail merchandising, marketing, management or marketing education. More than one student from the same school can apply for this scholarship. The application process includes filling out an application, submitting the application to DECA, along with proof of employee status, three letters of recommendation, high school transcripts, SAT or ACT scores and examples of leadership ability.
DECA Inc. 1908 Association Drive Reston, Virginia 20191 703-860-5000 deca.org
Sears Craftsman Scholarship
This scholarship helps high school students continue their education at the post-secondary level. The Sears Craftsman Scholarship goes to those students who show proof of academic achievement, citizenship, extracurricular activities, community service and work experience. Even though Sears funds these scholarships, the Youth and Education Services department of the National Hot Rod Association administers them. There are 20 $1,000 scholarships and one $25,000 scholarship awarded to students annually. Three of these students are from the seven geographical locations of the National Hot Rod Association, including the 50 states, Canada, Mexico and Puerto Rico. The application process includes submitting an application, two letters of recommendation, an official high school transcript and one or more photos of the applicant participating in an activity that relates to his or her career goals.
Sears Craftsman Scholarship NHRA Youth & Education Services 2035 Financial Way Glendora, California 91741 626-250-2208 nhra.org
Sears Fashion Merchandising Scholarship
Sears also has a scholarship for students who are studying fashion merchandising. This scholarship awards students who have academic excellence or are involved with their communities. Students can use this scholarship at colleges or universities for their tuition or room and board. To apply for this scholarship, students must submit an application, letters of recommendation and an essay and participate in an interview.
Sears Holdings Corp. 3333 Beverly Road Hoffman Estates, Illinois 60179 847-286-8371 aboutsears.com
References
Resources
Writer Bio
Based in Massachusetts, Chanel Adams has been writing since 2009. Her work has been published by the "Lowell Sun," MadeMan.com, Coed Media and other print and online publications. She has knowledge in fashion, careers, health, education, computers and electronics. Adams has an Associate of Science in administrative medical assisting from San Joaquin Valley College.