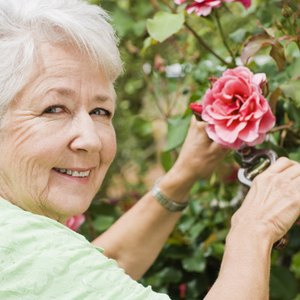 •••
Jupiterimages/Polka Dot/Getty Images
While young adults are often encouraged to strive for home ownership, senior citizens tend to reach a crossroads when it comes to the benefits of renting versus buying. When deciding whether to rent or buy, seniors should consider such factors as the upkeep requirements of the home, its potential investment value versus its potential cost, its security, green space and the flexibility to travel.
Upkeep
Perhaps the biggest benefit of renting a home, whether it's an apartment or a house, is that repairs and maintenance are the responsibility of the owner. For seniors with declining health and mobility, this advantage can be a huge factor in favor of renting versus buying. Maintenance that usually falls under the responsibility of the homeowner or landlord includes: repair to appliances, fixtures and amenities, snow removal from driveways and walkways and other general upkeep.
Equity versus Costs
The equity built by owning a home may not add up to much of a profit when offset by the ongoing expenses of home ownership. Costs such as home insurance, property taxes, mortgage interest and maintenance should all be taken into consideration. For seniors on a fixed income, issues that require major repairs out of the blue can be stressful or financially impossible, which could then cause a house to fall into disrepair and lose its value. Seniors should compare homeowner costs to typical rental costs, such as security deposits, tenancy insurance, parking spots, laundry and other amenities.
Security
Seniors who live in houses by themselves are more likely to be targeted for home invasions than young-middle aged adults. A rented apartment could offer more security for seniors because of the proximity to other people and the added security of a front door surveillance camera or on-duty security guard for tenants.
Green Space
For seniors who love spending time gardening and tending to their yard, a big disadvantage to renting could be an absence of green space or lack of permission from a landlord to alter the green space. Depending on how much time is spent outdoors around the home, lacking a yard or even a patio could be depressing to seniors who are accustomed to enjoying time outdoors in their own private yard.
Travel
For "snowbird" seniors who live in cold climates and travel south in the winter, it's easier to leave behind a rental apartment in a multiunit building versus a detached house. A rented space eliminates the need to arrange for snow removal and salting of walkways and driveways and to pay heating bills. In warm apartment buildings, tenants can usually leave their apartment alone with little or no heat for long durations and not have to worry about pipes freezing and bursting. If pipes do burst or anything goes wrong in the unit while tenants are away, issues are likely to be noticed promptly by other tenants and repaired immediately by the landlord to avoid further damage to other units.
References
Writer Bio
A freelance writer since 2006, Giselle Tattrie has written for publications such as "Reader's Digest" and Popjournalism magazine, as well as for live theater and television. She holds a Bachelor of Arts in English from the University of King's College in Halifax, Nova Scotia.