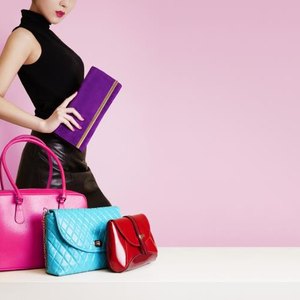 •••
MoustacheGirl/iStock/Getty Images
It is immensely satisfying to enter a bargain store, dig through merchandise, and find the designer bag at a majorly discounted price. It only helps that the price tags in stores like T.J. Maxx and Marshalls often tell you how much money you're saving by shopping there as opposed to purchasing from the high-end brand.
But here's some real talk: Contrary to popular belief, what's on sale at those discount venues or outlets is generally not overstocked product or last season's wares. Much of what's on sale is made specifically for those outlet markets, and while there's nothing inherently wrong with that there is the question of how aware consumers are of what exactly it is that they're buying. To boil that down: In many cases the clothing sold at outlets is of lesser quality. So, sure, that J.Crew Factory cardigan is cheap but that's also because it was more cheaply made. All of that would be totally fine, if those differences were clearly expressed to buyers. Unfortunately, they're not.
Outlets were at one time exactly what we think of them as — discount stores selling damaged, overstocked, or out of season goods. But through the years, they've morphed into destinations selling a blend of overstocked merch and lower quality, lower cost goods. As J. Crew Factory notes in filings, they sell "a specific line of merchandise . . . based on (full-price) products sold in previous seasons."
When it comes to T.J. Maxx or Marshall's, things become further complicated. Though Carol Meyrowitz, CEO of TJX which owns both T.J. Maxx and Marshall's, told USA Today that 85% of their store merchandise is purchased directly from manufacturers, there is still wiggle room in the very definition of that statement.
Many discount stores have licensing deals with specific vendors. Basically what that means is that if a company like T.J. Maxx brokers a deal with, say, Calvin Klein they may then have a lot of Calvin clothing for sale, much of it made for a lower cost specifically for the T.J. Maxx market.
A 2014 Buzzfeed article laid out pretty specific terms for how much merchandise at bargain shopping destinations is divided between the brands listed on the price tag, as opposed to "brand specific vendors." According to Buzzfeed, "Executives from Off 5th, which carries brands like True Religion and Alice + Olivia, told investors last year its products are 10% leftover Saks inventory, 25% private-label goods, and the rest is mostly merchandise for the stores by 'brand appropriate' vendors." "Brand appropriate" vendors basically means that while a jacket may say it's from Alice + Olivia it might actually be from an Alice + Olivia vendor. All of this is of course good for business (profit margins are higher when cost of creation is lower), but it does raise questions about whether or not shoppers are getting what they think they're buying. The short answer is no. And yes, this stuff is insanely confusing.
While this may seem a technical or even tiny matter it's become an issue of legality. In 2014, four members of congress wrote to the Federal Trade Commission asking for a look into the marketing practice of outlet stores. "Some analysts estimate that upwards of 85% of the merchandise sold in outlet stores was manufactured exclusively for these stores. Outlet-specific merchandise is often of lower quality than goods sold at non-outlet retail locations. While some retailers use different brand names and labels to distinguish merchandise produced exclusively for outlets, others do not. This leaves consumers at a loss to determine the quality of outlet-store merchandise carrying brand-name labels." Basically, people are confused. And is it really OK to confuse people into thinking they're saving big?
This discount confusion is not unique to clothing outlets; both the food and beauty industries come up against similar issues, though with slightly more damaging consequences. With respect to beauty products, there are countless websites purporting to sell heavily discounted makeup. Coveted beauty brands, like Mac and Nars, are counterfeited regularly, and sold on sites like eBay and Amazon for prices far lower than the norm. The reality though is that many of these items are not the products they claim to be. What is a further issue when it comes to makeup is that the low cost knock offs are generally loaded with a range of toxins — the U.S. Department of Homeland Security even issued a warning about how these items can be harmful to your health. So while clothing shopping at outlet stores can mean buying slightly misrepresented merch, buying discounted makeup online can actually be bad for your health.
When it comes to food, discount (or "salvage") grocery stores are a popular money-saving destination. The venues generally sell expired goods, misshapen produce, or food in damaged packaging. They also, like clothing outlets, often have direct relationships with particular companies. As Modern Farmer sums up, "The stores often have contracts with the manufacturers regarding certain brands and will provide services like distributing damaged products, repacking bulk products, and in-house labeling and relabeling of items." While these discounted food stores are far more regulated than online beauty products, there is still the need for extra vigilance when purchasing products there.
So, to answer the question of whether or not we're really striking a deal at discount stores, the answer is an extremely tepid "yes." Technically, less money is being spent, but it might not exactly be being saved. As the consumer you must understand that discount outlets might also mean discount goods. And seductive as lower prices can be, don't we all have a right to know exactly what we're paying for?