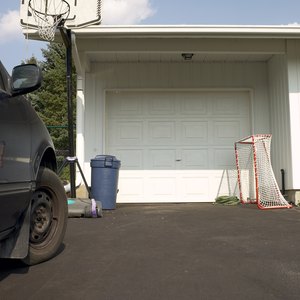 •••
Hemera Technologies/AbleStock.com/Getty Images
Certain home improvement projects generate value when it's time to sell your home. A garage addition is one of these improvements, one that can boost your home's value by thousands of dollars. A new garage can also help your home sell faster. Buyers like garages. They'll be more likely to make an offer on your home if they have a place to park their cars and store their bicycles and lawn mowers.
Determining Value
Determining the value of your home is no easy task. It's a crucial one, though, when you're ready to sell. If you overvalue your home, you might be tempted to list it at too high of a sales price. If you price your home too high for your market, you'll receive few offers. If you undervalue your home, though, you might lose money when you sell. If you list your home at too low of a price, you will receive offers. But you'll never know how much more money you could have received from buyers. When trying to determine your home's value, you need to consider your entire property: Your home, its land, its location and the other buildings on your property, including a garage.
Appraisers
Many sellers hire an appraiser to determine the value of their homes before they put them on the market. This isn't free; appraisers typically charge $400 to $500 depending on the size and age of your home. But an appraiser will give you a professional's opinion on how much your residence is worth, something that can make setting an asking price an easier task. When looking at your home, your appraiser will note any improvements you made. If you added a new garage to your home, your appraiser will increase your home's value.
Value
In its 2013 Cost vs. Value report, Remodeling Magazine reported that a mid-range garage addition costing $48,806 will boost a home's value at resale time by $31,091. This means that homeowners would recover 63.7 percent of the cost of the addition at sale time. This ranks above such projects as a roofing replacement, in which homeowners recover on average of 62.9 percent of their costs; a bathroom addition, in which owners recover an average of 54.8 percent of their costs; and the addition of a family room, which returns an average of 63.3 percent of the costs that owners spend, according to Remodeling Magazine. The garage addition, though, ranks behind such improvements as the addition of an attic bedroom, which returns an average of 72.9 percent of its costs, and a basement remodel, which returns an average of 70.3 percent of the costs that owners spend.
High-End Range
The Cost vs. Value report found that the more homeowners spend on a garage addition, the smaller the percentage return they receive. According to Remodeling Magazine, homeowners who spent $80,511 on a garage addition saw their home's value increase by an average of $44,034 at sales time. This means that owners recovered an average of just 54.7 percent of the money they spent on a garage addition. This indicates that higher-end projects elsewhere in the house might make more financial sense. For instance, according to the report, owners who spent $50,007 on a bathroom remodel recovered an average of 58.3 percent of their costs at sale time.
References
Writer Bio
Don Rafner has been writing professionally since 1992, with work published in "The Washington Post," "Chicago Tribune," "Phoenix Magazine" and several trade magazines. He is also the managing editor of "Midwest Real Estate News." He specializes in writing about mortgage lending, personal finance, business and real-estate topics. He holds a Bachelor of Arts in journalism from the University of Illinois.