How to Get Preapproved for a VA Home Loan
by Jann Seal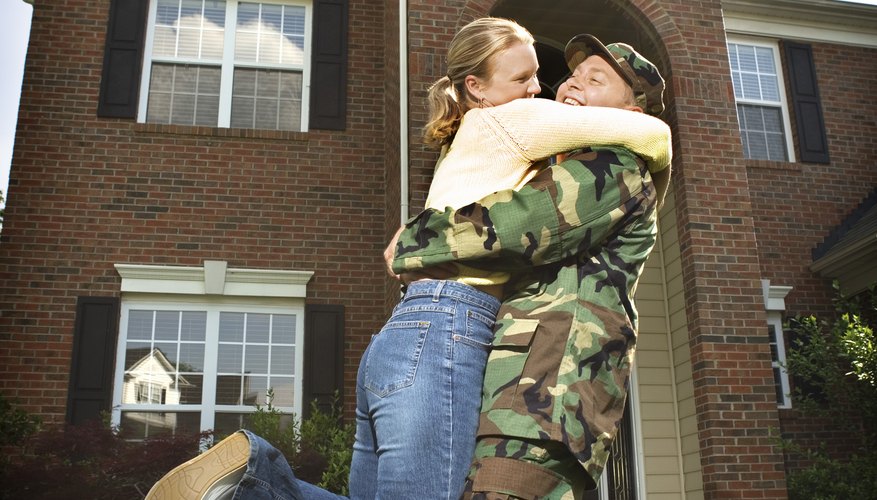 All homebuyers in need of a mortgage loan to buy a home should get preapproved prior to their search, but qualifying for a Department of Veterans Affairs loan requires additional criteria to be met. To apply for a VA-guaranteed loan, you must establish your credit worthiness and prove your eligibility to borrow under the VA loan conditions.
Pull your credit reports from all three reporting agencies and verify your score is 620 or above. Report any incorrect information to the credit agency and expect the report to be repaired within 30 days. While the VA doesn't require a minimum score, underwriters look at it before granting you the actual funds.
Calculate your debt-to-income ratio, which is your gross monthly income divided by the total of your monthly debt, such as rent, credit card payments, car loans, utilities, insurance, and other expenses. It must be under 41 percent to qualify for a VA loan. For example, if your gross monthly income is $6,000, your total monthly debts should amount to no more than $2,460.
Meet with a lender that is experienced in working with VA loans and has the "automatic approval" designation. Apply for your Certificate of Eligibility with the lender's help, or apply online or by mail through the VA. Establish that you are still active or were discharged honorably or its equivalent before proceeding with your VA loan preapproval. Follow the same procedure if you are a surviving spouse.
Give your lender information that includes income, expenses, debt, bank statements, length of employment and any other financial input that directly affects your credit and spending. The bank statements should reflect savings equal to three months of projected mortgage payments, as proof of contingency funds. Bring your spouse's records too, if you will have a joint borrower.
Get a preapproval letter from the lender indicating your credit worthiness based on the information you supplied and the result of the lender's searches into your credit history. Shop for a house up to the amount of money indicated in the preapproval letter, as this is the amount an underwriter is asked to approve when applying for a VA loan.
Photo Credits
Thinkstock Images/Comstock/Getty Images