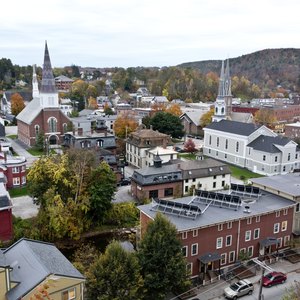 •••
ErikaMitchell/iStock/Getty Images
If you love the four seasons for which New England is known for and the small town life, Vermont is an ideal state to move to when it comes to enjoying retirement. The state may not be known as one of the top choices for retirees looking for tax exemptions, but a handful of cities make up for it by offering plenty of fresh air and enough cultural amenities to meet even the most refined tastes.
Big City Life
Multiple sources say Burlington, the largest city in Vermont, is one of the best places to retire in the state. If you love an art-filled culture and lots of outdoor recreation, this city of about 42,000 residents, located in the Adirondack Mountains, hits the spot. Scenic views of Lake Champlain, concerts at the Flynn Center for the Performing Arts and a downtown marketplace featuring restaurants, boutique shops and galleries makes this a go-to city for an enjoyable retirement.
Capital City Living
Montpelier, a small town with fewer than 8,000 residents, offers the distinction of being the smallest state capital in the nation. For people who like quaint small town life with the opportunity for politic involvement as well as art, music and recreation, this city is ideal for retirement. Film lovers will enjoy the Green Mountain Film Festival that occurs for ten days in the spring while the restaurant scene is constantly changing thanks to the presence of the New England Culinary Institute. A propensity for walking makes the city even more enjoyable and ideal for keeping young and healthy in body and soul.
Artsy Environment
Brattleboro's art scene alone is a big draw for retirees who love living in a creative environment. Gallery walks, numerous museums and artist studios dot the city, with performing arts and new artwork the focus on walkabouts around the small town. The population of a little over 12,000 people also boasts a historic downtown area full of shops and a thriving historical society so you can learn how the culturally active town got its start. Summer and winter farmers markets give you a chance to enjoy healthy foods and interesting local crafts add to the local scene.
College Town
Home to three schools ––– Bennington College, Southern Vermont College and a community college –– Bennington offers plenty of cultural amenities and easy access to outdoor recreation. The town is located 35 minutes away from Mount Snow, a large ski resort. Lots of music, theater, art and festivals keep you busy during the entire year. MarketWatch reports that the cost of living in this town is lower compared to the rest of the state, making the city of less than 16,000 people ideal for retirees on a budget.
References
Writer Bio
Nancy Wagner is a marketing strategist and speaker who started writing in 1998. She writes business plans for startups and established companies and teaches marketing and promotional tactics at local workshops. Wagner's business and marketing articles have appeared in "Home Business Journal," "Nation's Business," "Emerging Business" and "The Mortgage Press," among others. She holds a B.S. from Eastern Illinois University.