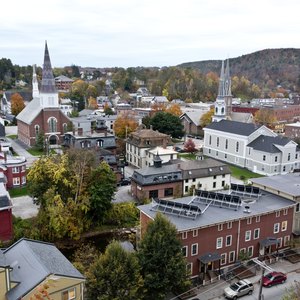 •••
ErikaMitchell/iStock/Getty Images
When deciding where to retire, there are several picturesque Vermont towns to consider. You'll most likely have a checklist of several things you need in your community if you're retiring in Vermont. It's a good idea to start looking for ideal places to retire that check all the boxes and allow you to gauge how much you need to save before that day arrives.
Best Place to Live in Vermont for Seniors
Although you don't have to, creating a retirement wish list is a good place to start when deciding on a location. There are a few important factors to think about before picking your perfect retreat. To start, you'll really want to be close to a hospital in case of an emergency. In addition, you might want to consider your hobbies and the types of adventures you want to go on. You'll have plenty of free time to enjoy your favorite things to do.
1. Cornwall
Cornwall, Vermont, ranks No. 1 in the entire state for retirees. This rural town has a median income of ​$85,000​, with most residents owning their homes. The population is relatively small with only 1,028 individuals residing in the town. It is mostly farmland with several small businesses in the downtown area. For political preferences, the town is more liberal than conservative.
2. Shelburne
Located right along the La Platte River, Shelburne is the second-most desirable town for retirees in Vermont. With a quaint history of mills along the waterfront, the city now hosts modern businesses in the town center. The town has a population of roughly 7,700 and has so much to offer for nature-lovers. With a median income of ​$96,165​, you'll be enjoying life with a well-planned retirement income.
3. Hartford
Located on the border of New Hampshire, Hartford is a small city with a great suburban feel. Because it is located where two rivers join, it has tons of outdoor activities to enjoy. Fishing, kayaking, boating and swimming are among the locals' favorites. It also has a median income of roughly ​$64,500​.
4. Montpelier
Situated in Washington County, Montpelier is a bustling city with a great variety of people. There is lots to do for entertainment, including theater, music venues and fine dining at its best. The community is strong and engaging. It is a lovely New England town to settle down in for retirement with a median income of ​$65,000​.
5. Dummerston
Ranked highly for raising a family, Dummerston is a lovely small village with a mere 1,890 residents. This quaint town is very rural and most people own their homes here. The median household income is roughly ​$68,600​ per year. The biggest attraction is the natural landscape with its great hiking and beautiful swimming locations.
Retiring in Vermont
There are countless places to set yourself up for retirement, but none are quite like these quaint towns and cities in Vermont. The most important factor to remember is your financial situation. Consider that many of these Vermont destinations are affordable.
In addition, choose a place that suits you well. If you like nature walks and hikes, pick one of the more rural areas. And on the flip side, if you enjoy theater and going out to dinner and shopping, choose a more urban spot.
It's good to remember that wherever you choose to settle doesn't have to be your forever home. Retirement is for relaxing and enjoying life and if that means moving around, then so be it. Vermont has so much to offer retirees, so take a look and set some goals for retiring in Vermont.
References
Writer Bio
With over seven years of freelance writing experience across a variety of genres, I have quite a bit of education and research to share with those looking for financial guidance. My personal experiences, including two house purchases, two paid off car loans, home refinance, and a Home Equity Line of Credit process, give me the practical knowledge to assist with large financial decisions. Meanwhile, budgeting everyday necessities for a family of seven focuses my expertise on daily savings. In addition, I have written financial articles for a top ranking finance site, Go Banking Rates.