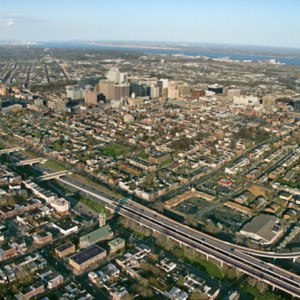 •••
Jupiterimages/Photos.com/Getty Images
Delaware is located on the northeast coast of the United States. It has a population of almost 784,000, as of 2011, and the average cost of a home is just over $260,000. Delaware has many great areas to choose from but when looking for an area to suit a family, the quality of schools, transport and recreation are all necessary considerations.
Triangle Neighborhood, Wilmington
WIlmington is the largest city in Delaware. The Triangle neighborhood is a quiet area located adjacent to Brandywine Park but also just a fifteen-minute walk from bustling downtown. The area features a large proportion of period properties, and traffic through the Triangle is local only, meaning children are able to play outdoors. Residents also highlight the diversity of the neighborhood, adding that their children are able to have a mixture of friends. The Triangle is within easy reach of several good schools; the Odyssey Charter School is just over 2 miles away and receives a rating of 9 out of 10 from greatschools.org, based on its test results.
Middletown
Middletown is a coastal town with a population of approximately 6,200, as of 2011. It offers a wide range of property types to suit all budgets. The town is ranked 9th in Neighborhood Scout's list of the best public school systems in Delaware, with two modern high school campuses, Middletown High School and Appoquinimink High School. Residents describe the area as geared toward youth, with lots of open spaces and thriving sports programs. The town has a variety of other recreational attractions including the Everett Theater, which hosts a range of children's arts programs.
Camden-Wyoming
Camden and Wyoming are historic sister towns that began life as rail depots in the 1800s and today are distinct municipalities. The station house in Wyoming remains as testament to the town's railroad history. There are a large number of period properties available and prices range range from $130,000 for townhouses to $170,000 and above for single-family homes. The area is located within easy reach of major cities and beaches for the children, and ranks 8th in Neighborhood Scout's list of the top public school systems.
Hockessin
Hockessin offers the opportunity to live amid beautiful countryside and still be only a ten-minute drive from Wilmington. The center of Hockessin offers a range of restaurants and shops, so you don't have to travel far for groceries. However, the cost of idyllic country living is higher than some of the other areas, with the majority of houses falling into the $426,000 to $639,000 bracket. If you can afford it, though, Hockessin offers a number of good schools, including Henry B. DuPont Middle School and the private North Star Elementary. The Hockessin Athletic Club provides a range of activities for children, including a water park and lap pool.
References
Writer Bio
Based in London, Cassandra Pope has been writing since 2006. She is assistant station manager of an online radio station and has written articles for the "London Student" newspaper, the culture blog Arts Attack and various other websites. Pope has a first-class Bachelor of Arts in war studies with film studies from King's College, London.