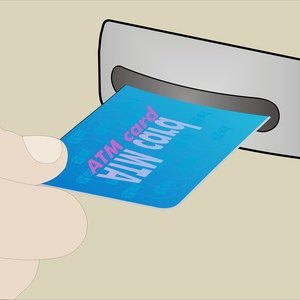 PIN-less transactions extend buyers' paying power beyond the traditional credit cards to bank-issued ATM cards. PIN-less transactions do not have a maximum spending limit and process transactions in real time. The transactions are similar to an electronic check debit, except a PIN-less transaction payment releases from the card holder's account immediately. The bank's routing number is not necessary to conduct the transaction.
Limited Use
A PIN-less debit transition is a transaction that processes a bank-issued ATM debit card without inputting a PIN. Currently, the PIN-less debit card is only usable during certain transactions within low-risk industries. A business with close relationships with its customers is a low-risk business. Low-risk industries have the immediate ability to stop services if the payment is returns. Universities, colleges, utility companies and governmental agencies have the ability to process PIN-less transactions. You can also use this transaction type for payments that recur at different amounts, such as the electricity bill.
Low-risk business with an internet payment processor or a telephone response system can process a pinless debit. A business with an Account Receivable Department equipped with a pinless processing system has the ability to process pinless transactions.
Star, NYCE and Pulse are some of the major debit systems that support the pinless debits.
Visa Debit Cards
Major credit-card companies like Visa are beginning to use PIN-less debit transactions. After they verify the card holder's identity, they can begin PIN-less debit transactions. The user verifies his identity by using the card at a point-of-sale terminal, signing for a Visa-card transaction or using the card to pay bills over the Internet or telephone.
Terms and conditions for using a Visa check card on a non-Visa network depends on the card issuer. TruChoice, a Federal Credit Union, does not associate the Visa debit transaction terms and conditions to non-Visa debit transactions. For example, Visa debit card carries a zero-liability program for Visa card holds. Transactions processed though the pin-less network does not receive the same benefits.
Transaction Requirements
According to CyberSource, a credit-card processor for business, all PIN-less debit transactions must be in U.S. currency. Certain processors require additional bank information before processing a PIN-less transaction.
Debit Card vs. Credit Card
Unlike credit-card purchases, it is not necessary for processors on the PIN-less debit network to provide an authorization number. Credit cards allow a reversal back to the credit card. To process a refund from a PIN-less debit card transaction, the merchant issues a check, gives a store credit or returns cash to the customer.
References
Writer Bio
Solace Powell began professionally writing in 1998. Her articles have appeared in "The Comet," "The Mace and Crown" and "The Courier." Powell received her Bachelor of Science in engineering from Old Dominion University.