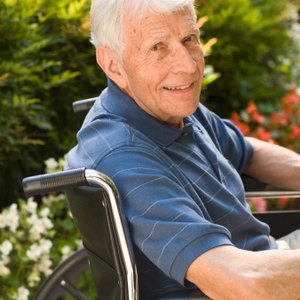 •••
Comstock Images/Comstock/Getty Images
For many senior citizens on a fixed income, personal senior grants from the government and elsewhere can result in a significant increase in quality of life. From educational assistance, home repair and weatherization assistance, this information will show where to look for grants for senior citizens.
Look into local charities
Local charities like the Lions Club and Meals on Wheels can provide personal services that senior citizens need. In addition, an organization like the Lions Club will be made up of professionals from your local community, such as lawyers, accountants and doctors, who may be able to handle the issues of senior citizens for free. Also meals on wheels is a great source for free meals for low-income seniors.
Seek out houses of worship
Churches could be your biggest network of assistance. Your local house of worship will know volunteers in their congregation willing to help with caregiving services, senior daycare, help with food shopping or even minor home repairs, all free of charge. There may be other services available, so you will need to ask.
Pursue National Charities
Nationally based charities will provide grants and assistance for seniors. Some of those that could help would be the Alzheimer's Association, which focuses on helping Alzheimer's patients and their caregivers, or the American Cancer Society, which does the same thing for cancer patients. As an example, the Alzheimer's Association runs several hundred local chapters that provide help for Alzheimer's patients, runs 4,500 support groups across the country for patients and their caregivers and delivers thousands of educational programs to assist caregivers in taking care of Alzheimer's patients as well as developing "Safe Return," the first program dedicated to keeping track of other wandering Alzheimer's patients.
Find your local Office of the Aging
They will provide a wide array of senior grants and services, such as benefit counseling, senior daycare, help with employment, pharmaceutical assistance for those who cannot afford their prescription drugs and support for the caregivers of senior citizens. By calling your local Office of the Aging and setting an appointment to speak with a representative you could have the opportunity to come across a wealth of senior grants.
References
Writer Bio
Tony Rovere has been writing professionally since 2008. He freelances for FreeSeniorCitizensSolutions.com and has been licensed to market life insurance, investments and retirement plans. He specializes in financial planning. Rovere is currently pursuing a Bachelor of Science in aeronautics from Dowling College.