How to Negotiate a Real Estate Land Contract
by Joey Campbell ; Updated July 27, 2017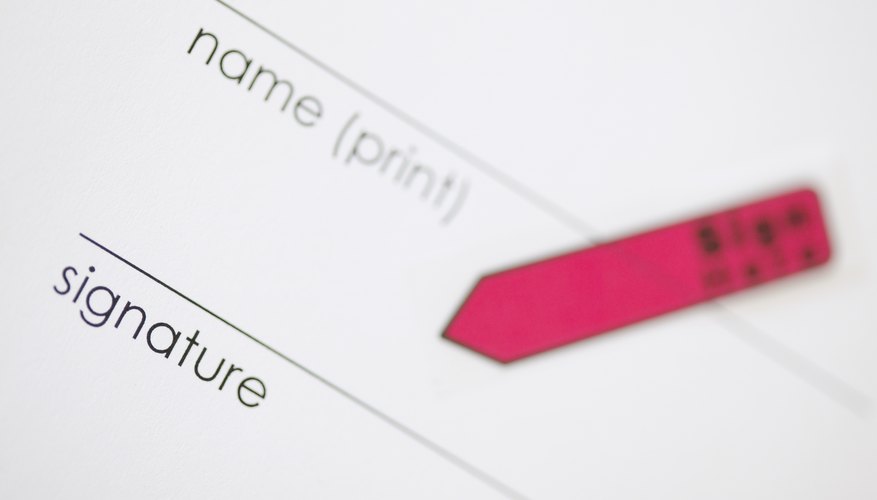 Items you will need
Property
Contract
Seller willing to do contract for deed
Down payment funds
A land contract is a special contract that is sometimes used to buy property. It is usually handled as an owner-financed loan, but unlike standard real estate loans, no title is passed to the buyer when the deal closes. In a land contract, the title passes to the buyer only when the loan (contract) is paid off. A land contract is an installment contract, and is also known as a contract for deed. The owner who is selling the property may own the property "free and clear" of liens or mortgages, or he may still have a loan against the property.
Step 1
Consider amounts of financial obligation that you currently have. Going into a contract to purchase property sets up a financial obligation with monthly payments. When going into long-termed financing, you may find seller financing under land contract to be short termed. The agreement may set up a longer term, which would make your payment reasonable, but come due (balloon) in a shorter time. A five-year balloon agreement would require you to pay out the balance or get financing for it. The seller might require a look at your credit report before going into a finance agreement with you. Look at your financial status, with amount of monthly payments. Total your monthly consumer payments and divide by your gross monthly income. If this "debt ratio" is 40 percent to 50 percent, paying down debt will raise your scores. Go to AnnualCreditReport.com and get a copy of your credit report, which is free to you once per year, and scores for a small cost per score.
Step 2
Search for properties that appear to fit your needs that may offer owner financing or land contracts. You will find these in newspapers or other publications. Search the Internet in sale websites, such as Craigslist, for online advertising of properties for sale. Seek properties that state owner financing may be available. Banks may offer financing on land contracts. This is not something you would see advertised since bank just want to sell off their real estate-owned (REO) properties.
Step 3
Contact sellers of properties, which appear to offer a likelihood of owner financing or land contract. Out of the list of possibilities you create in your search, eliminate the ones which are out of your geographic area or undesirable due to condition or price. Call your list to make an appointments to view the properties being sold, which fits all of your needs in price and location.
Step 4
Narrow your prospects to those properties viewed that appeal to you most. Call a real estate attorney in the area and make an appointment to discuss buying a property with a land contract. He will offer you his services for receipt of good title so that you do not run into problems when paying off the property in all cash or in refinancing and the title passes to you. He will assist you with drafting a contract agreement to make your offer. This offer is much like any offer to buy a property, but will have language regarding use of a land contract. Have several "fill in the blank" forms made.
Step 5
Contact your most desirable property owner and make the decision to make your offer on the property. Meet with him and have him explain how he wishes to proceed. Ask your questions and find out details of the property. Ask the seller for a copy of a land survey and a copy of a deed so that your real estate attorney can assist you with checking the title to be sure it is clear of any liens or other issues that should be dealt with prior to the sale. If the seller is OK with the amount of funds you wish to use for down payment, and there is an agreement as to the purchase price, interest rate, payment schedule, and fulfilling the contract, fill in the blank and make your offer. The offer should be contingent on title issues being cleared prior to monies being given to seller.
Tips
Consider your most desirable property and call a Realtor in the area, ask her to run a "sold search" for you on the multi-list service (MLS) system to see what other similar properties have sold for in the past six to 12 months. This information will help you to determine if the asking price is a good deal or over priced. There is no way to determine value when you pay off the contract if you are planning to pay it out in future years, but a fair price is important to you at the time the contract is made.
Warnings
In the event you are unable to fulfill your obligation to pay out the contract, any deposits made in the beginning will most likely be retained by the seller of the property.
Photo Credits
Jupiterimages/Photos.com/Getty Images
Cite this Article
Choose Citation Style
Campbell, Joey. "How to Negotiate a Real Estate Land Contract." Pocket Sense, https://pocketsense.com/negotiate-real-estate-land-contract-5886144.html. 27 July 2017.
Campbell, Joey. (2017, July 27). How to Negotiate a Real Estate Land Contract. Pocket Sense. Retrieved from https://pocketsense.com/negotiate-real-estate-land-contract-5886144.html
Campbell, Joey. "How to Negotiate a Real Estate Land Contract" last modified July 27, 2017. https://pocketsense.com/negotiate-real-estate-land-contract-5886144.html
Note: Depending on which text editor you're pasting into, you might have to add the italics to the site name.