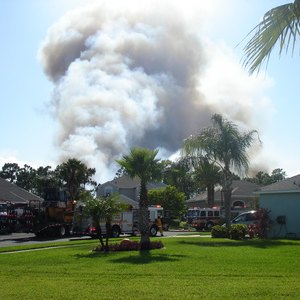 •••
Brushfire behind houses image by Marta Reimpell from Fotolia.com
The time to think about whether you have adequate house insurance is not when your house is burning down. Because most mortgage lenders require proof of insurance before closing on your home, chances you have some, but not necessarily the right amount of house insurance. One of the most important factors is the amount of insurance on your home's structure. Careful consideration of structural coverage -- and an understanding that coverage limits for most other categories depend on the amount of coverage you choose for your home -- can help determine what level of insurance is right for you.
Structure
You need enough house insurance to cover the cost of rebuilding your home at current market prices. As a start, check with a local builder or your real estate agent to find the average building cost per square foot for the area in which you live. Multiply this cost by the total square footage of your home. For example, if an average building cost is $200 per square foot and your home is 1,800 square feet, a rough estimate of the cost to rebuild your home is $360,000. Factors to consider that may increase this amount include the quality of construction materials, customization or home-remodeling projects that increase the value of your home, as well as additional structures on your property, such as a garage or shed.
Personal Possessions
Before you can determine the amount of insurance to include for personal possessions, conduct a complete home inventory. In addition to photographs and a detailed list of all the items of value in your home, include receipts for major purchases and appraisals for antiques or items, such as jewelry, art or collectibles whose value may be subject to interpretation. According to the Insurance Information Institute, most policies cover personal possessions at 50 to 70 percent of the amount of insurance you place on the structure of your home. For example, if you insure your home for $360,000, insurance for your personal possessions will be $180,000 to $252,000. If the value of your personal possessions exceeds this, consider purchasing a rider to cover the additional amount.
Living Expenses
If the damage to your home is extensive, or if your insurance company declares your home a total loss, coverage for living expenses can be a lifesaver. Most insurance companies cover standard expenses, such as lodging and meals, at about 20 percent of the amount of insurance you place on the structure of your home. If you insure your home for $360,000, the amount of living-expense insurance on your policy will be about $72,000. Because coverage rates vary widely between individual companies, this is one area you should thoroughly investigate.
Liability
A standard house-insurance policy usually includes about $100,000 of liability insurance to cover claims from property damage that you, a member of your family or your pet causes to other people. This is a minimal amount of insurance, so to better protect your assets, the Insurance Information Institute recommends increasing this level of insurance to between $300,000 and $500,000.
Considerations
In addition to choosing the right amount of house insurance, it is important to select the right type. House insurance types range from an HO-1, the most basic, to a guaranteed replacement, HO-8 policy. Although you should talk to your insurance agent to make sure your plan suits your needs, SmartMoney.com recommends starting no lower than an HO-3 policy, as this type provides protections from all perils, such as natural disasters, falling objects and damage relating to faulty plumbing or electrical work, unless the policy specifically excludes them.
References
Writer Bio
Based in Green Bay, Wisc., Jackie Lohrey has been writing professionally since 2009. In addition to writing web content and training manuals for small business clients and nonprofit organizations, including ERA Realtors and the Bay Area Humane Society, Lohrey also works as a finance data analyst for a global business outsourcing company.