How Much Does the Average College Student Borrow in Loans?
by Elizabeth Mott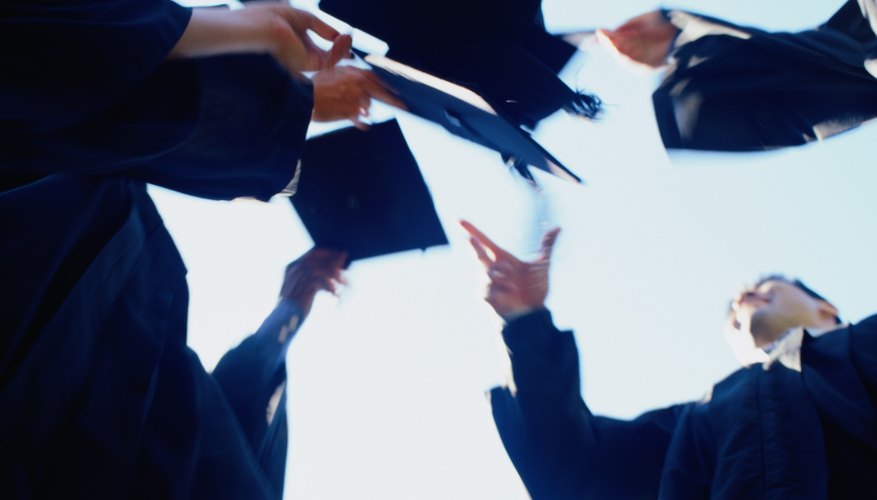 Financial experts who counsel students on smart college borrowing recommend that their loans total no more than the student's anticipated first-year income after graduation, with payments between 10 and 20 percent of monthly income. Too many students borrow without considering debt totals, evaluating likely incomes realistically and seeking financial counseling. Without a sound borrowing plan, the result can be a loan default that cripples their adult financial lives, a fate that befell more than 600,000 borrowers who graduated or dropped out in 2010.
Overall Averages
The Federal Reserve Bank of New York found that in 2012, all age groups with student loan debt owed an average of more than $24,000 but less than $25,000, and that student loans were the only segment of consumer borrowing that had risen since 2008. Consumers owed more in student loans than on credit cards and car loans, with an outstanding total of $966 billion in college borrowing, $322 billion of it owed by people under the age of 30. By 2013, that debt total had crossed the $1 billion mark, with average individual debt at $26,600 and 10 percent of graduates owing more than $40,000.
Lows or Highs
Student borrowing for the class of 2012 varied from state to state, with an overall high debt level of $33,649 in Delaware and a low of $17,994 in New Mexico, a study by the Institute for College Access and Success found in 2013. Of 2012's crop of graduating seniors, 71 percent had accrued at least some college loan debt, approximately 20 percent of it in the form of private loans, which typically carry higher interest rates than the equivalents from government programs.
Income-Based Variation
Family income levels correlate with financing options and average amounts of student borrowing. In a 2013 study, private student financial services company Sallie Mae found that during the 2012 to 2013 school year, students from families with incomes below $35,000 paid an average of $18,034 in college costs, with 22 percent of that amount contributed by student borrowing. Students from families with incomes between $35,000 and $100,000 paid an average of $22,197, with 19 percent in student-borrowed loans. In families with incomes above $100,000, costs averaged $23,913, of which students borrowed 13 percent. Nationally, student borrowing contributed an average of 18 percent of college funding, and borrowing increased with class rank. Juniors borrowed more than sophomores and seniors more than juniors, at 31, 45 and 60 percent of attendees.
Repayment Considerations
As of February 2014, $5,500 in federal direct student loans -- the annual maximum for dependent first-year undergraduates -- translates into $8,198 in repayments. To reduce the overall amount of debt that graduates must repay, they can make strategic choices about the work they do and the geographic areas in which they enter those professions. Teachers who work in low-income-area public schools can qualify for teacher loan forgiveness, which can cancel out up to $17,500 of qualifying federal loans. The Public Service Loan Forgiveness program gives full-time government employees loan forgiveness on federal direct loans after they make 120 monthly loan payments on their debts. An Income-Based Repayment Plan caps student repayment based on discretionary income, with qualifying debt forgiven after 25 years.
Photo Credits
Ryan McVay/Digital Vision/Getty Images