How to Make Quick Money by Selling the Stuff in Your House
by Contributor ; Updated July 27, 2017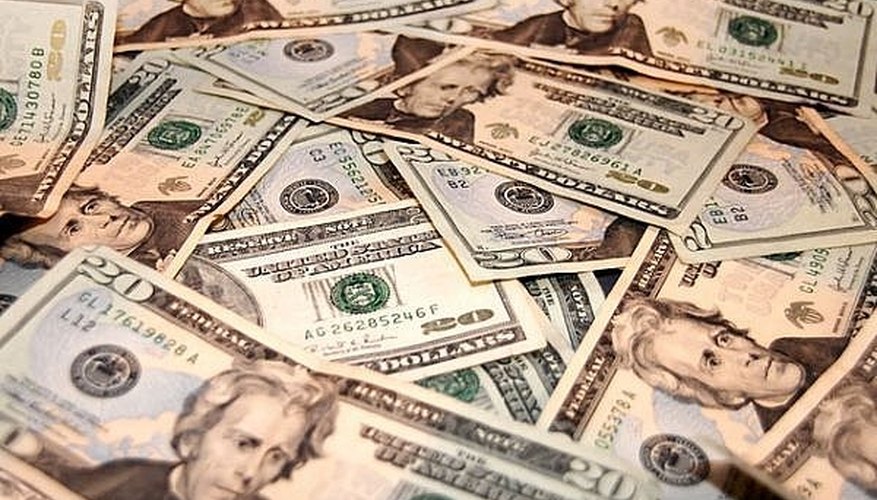 A wonderful way to bring in some extra cash is to sell the items in your home that you no longer want or need. There are many places to sell your stuff, but choosing the right place can be intimidating. The key to understanding how to best sell your stuff is knowing the venues. Once you know and understand your options, you'll find selling your stuff is easy and profitable.
Step 1
The first step in making money selling your "junk" is to decide what it is you want to sell. Just to scratch the surface, consider selling clothing, sports equipment, furniture, collectibles, designer items, DVDs, electronics, video games, appliances, toys, books, home goods, etc. It is very important that the items you choose to sell are in clean, working condition. Be sure to fully inspect and clean everything. Doing so will not only increase the amount of money you get for the item, but it will prevent conflicts with buyers.
Step 2
Now that you've determined what you have to sell, it's time to estimate how much the re-sell value of each item will be. This is an important step because it will help you choose how and where you will sell it. For example, you would be more likely to sell a valuable trading card on eBay than at a yard sale because you will make more on eBay with such an item. I recommend making a list of the items you have to sell. Next to the name of each item on your list, jot down what your guess on the resale value of the item is. Consider that gently used items like clothing, toys, home goods, etc will most often sell at about 1/3 of their original price. If you're unsure of what an item would sell for, head over to eBay.com and do a search for "completed items" to see what items like yours have sold for in the past. Other places to search for resale value would be amazon.com and of course, Google.
Step 3
Next you need to be aware of your options as to where to sell. The first, and possibly most successful option, is online. You are reaching more buyers online, and they are looking for exactly what you have. Selling items like collectibles, name brand clothing/bags/etc, electronics, DVDs, video games, baby gear, toys and more online can bring in top money. Two of the best places for selling online are eBay.com and craigslist.org. eBay charges a small listing fee and then a final value fee once the item sells. While this may seem like a downfall, it should be considered that eBay is offering a marketplace with the highest amount of traffic and highest potential for sales and value. In addition, eBay offers great security measures to not only ensure a more successful transaction. eBay also allows for the buyers to decide an items worth. You set a minimum bid and you will often be pleased to see the buyers will pay quite a bit more than your minimum. Craigslist is completely free and perhaps a better choice for large items like furniture and vehicles. Craigslist offers fewer security measures, so it is important that you protect yourself from fraudulent buyers. Craigslist will offer a higher amount of local buyers. Selling locally is beneficial because your buyers don't have to pay shipping charges and you don't have to figure out how to ship. I recommend taking advantage of the free membership for both of these sites and then reading what they have to offer. The more familiar you are with the sites, the more confident you will be in listing your items for sale there.
Step 4
Another option for selling your items is through direct selling in local classified ads. This is effective for large items like furniture, cars/trucks, lawn equipments, etc. Set your price at about 1/3 to 1/2 of the price you paid for the item originally. Consider it's condition when deciding the price. If there are not many prospects for your items within the first few days, you should consider lowering your price. When selling through classified ads, please be sure to consider safety. Meet the buyer in a public location if possible. If not possible, be sure you have family or friends present when the buyer arrives to pay for and pick up the item.
Step 5
You can also consider selling your items to your local consignment stores. Consignment stores are a great way to sell furniture, art, children's items, and sporting goods. You can expect the store owners to either pay you for the item upfront, or once the item sells. You will most likely be offered about 40% to 60% of what the items sells for in the consignment store. If they offer you less than what you think is fair, don't be afraid to decline the offer and take the item elsewhere.
Step 6
There will always be yard sales! These are fantastic for household items, children's toys and clothing, kitchen gadgets, lawn supplies, crafting, etc. While you might price your items at about 25% of what you paid for the item, be prepared to encounter bargain shoppers asking for a price reduction. This commonly takes another 5-10% off your asking price. A great way to spice up your yard sale and the money you make is to offer baked goods and small cups of lemonade or iced tea. Try organizing your items by theme and be sure they are clean and presented with care. If it is thrown out front like it's junk, then people will want to pay for junk. It if is placed out there like an item of value, people will expect to pay for an item of value.
Step 7
If you have loads of children's items to sell, be sure to ask around town about local children's consignment sales run by churches and other organizations. These sales are a great way to sell anything and everything baby, child, teen and maternity related. You will receive 50% to 70% of what your items sells for and the other percent goes towards the church and/or organization. You get to decide what the asking price is on the items, and you also get to pick up the items that do not sell or opt to donate them. A check is picked up or mailed to you at the end of the sale. So the perks here are many; you tag in the comfort of your home, you choose the price, part is donated to a good cause, you get back what doesn't sell, you're paid by a trustworthy location, etc. I highly recommend that my fellow mothers take advantage of these sales.
Tips
Remember to make sure all items that you sell are in the best condition possible. The better an item looks - the more money you'll make selling it! When selling online, include as many descriptive details and pictures of the item as possible! The closer the buyer feels to the item, the more likely they will buy it.
Warnings
Remember to consider your safety first when setting up arrangements for a local sale. Be sure to keep your contact information private unless needed to complete a transaction.