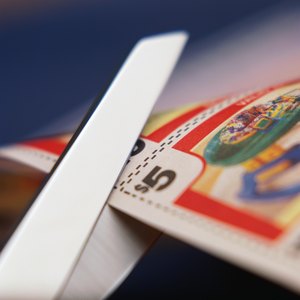 •••
Stockbyte/Stockbyte/Getty Images
One of the hallmarks of frugal living is using coupons when you do your grocery shopping. Many stores accept manufacturer coupons and offer store coupons to help you save money. However, if you want to save the most money possible, you need to organize your coupons. A coupon wallet allows you to keep your coupons organized and search through them while you are shopping. While there are commercial coupon organizers available, you can also make your own coupon wallet.
Purchase a wallet-sized accordion file. This style is small enough to act as a wallet, but also expands to hold all of your coupons. Some versions may come with special compartments to hold your credit cards and money.
Insert labeled separators. These are small file separators that allow you to easily divide the sections of your coupon wallet. You can label the separators yourself based on your common purchases. For example, you may want to have separate sections for dairy products, frozen foods and cleaning supplies.
Insert your coupons into each section. Sort the coupons that you have and put them in their proper place. Put the coupons that expire soonest at the front of the section.
Save the front pocket for the coupons you are currently using. The front pocket should be empty except for when you are shopping. Before you go on your trip, review your shopping list and the store's current sales flyer, and pull out the coupons that you'll use. Put them in this front pocket.
Place money and credit cards in the back pocket. If your organizer doesn't come with a separate money and credit card holder, use the back pocket to place these items.
Regularly go through your coupons to throw away expired coupons.
References
Tips
Regularly go through your coupons to throw away expired coupons.
Writer Bio
Maggie McCormick is a freelance writer. She lived in Japan for three years teaching preschool to young children and currently lives in Honolulu with her family. She received a B.A. in women's studies from Wellesley College.