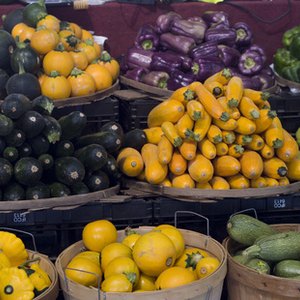 Food stamps can put nutritious food on the table when you are short on cash. The program, which has been rebranded SNAP, or the Supplemental Nutrition Assistance Program, is funded by the U.S. Department of Agriculture and administered by state agencies. In Louisiana, that is the Department of Children and Families.
Income Limits
To be deemed eligible for food stamps in Louisiana, your income cannot exceed a set amount. As of 2010, for a household of one person, that limit is not more than $1,174 gross, or $903 after taxes and allowable deductions. For a family of four, the income limit is a gross monthly wage of $2,389 or $1,838 net.
Exceptions
These income limits do not apply if any member of your household is receiving additional benefits provided by several Louisiana programs. These are the Family Independence Temporary Assistance Program (FITAP), the Kinship Care Subsidy Program (KCSP), and the Strategies to Empower People (STEP) benefits. If all of the members of your household are receiving Supplemental Security Income, then you are also exempt from income limits for purposes of receiving food stamps.
Resources
In addition, you may be subject to a limit on the resources your household owns -- your savings and physical possessions. This is usually a limit of $2,000, excluding your home or any vehicles that you need in order to work. If any member of your household is over 60, the resource limit is $3,000. If you are receiving benefits from any of the previously mentioned programs, you are also exempt from the resource limits.
Other Requirements
You must also meet several other requirements in order to be eligible for SNAP in Louisiana. You must be living in the state, and be either a U.S. citizen or registered alien. Every member of your household must have a Social Security Number, and all able-bodied adults except those in full-time employment or caring for dependents must be registered as available for suitable employment.