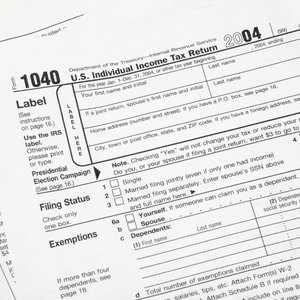 •••
Creatas/Creatas/Getty Images
Tax write-offs, also called tax deductions, are expenses that the tax code allows individuals to subtract from taxable income to reduce the burden of income tax. Tax deductions allow people to spend income on certain worthwhile or necessary expenses without being taxed on the income spent. Making a list of all your possible tax write-offs is an important step to take before filing a tax return.
Interest Paid
The interest on certain types of loans may be tax deductible. For instance, interest paid toward a mortgage on a first or second home is typically tax-deductible. This is one of the most important tax deductions for average individuals since mortgage interest can amount to thousands of dollars a year. Interest paid toward student loan debts and business properties may also be tax-deductible. Interest paid toward personal loans such as car loans and credit cards is not tax-deductible.
Other Taxes
The U.S. federal government taxes income but individuals may also be subject to a variety of taxes from other governmental bodies. Taxes paid toward other governmental bodies is often tax-deductible. According to the IRS, taxes that may be tax-deductible include: state, local and foreign income taxes, real estate taxes, personal property taxes, state and local sales taxes, and qualified motor vehicle taxes.
Charity
Donating money to charitable organizations may qualify as a tax deduction. Donations to religious institutions such as churches count as charitable contributions, as do donations to educational institutions. Donations made to non-profits aimed toward fostering social goods like cleaning up the environment, protecting animals or people are typically tax-deductible. High-income earners who face high income tax rates stand to save more in taxes per dollar donated than people in lower tax brackets.
Business Expenses
Various expenses associated with running a business are tax-deductible. For instance, if you are self-employed, rented space you use for an office or a portion of living expenses related to a home office may be tax-deductible. Money spent traveling for business and entertaining clients is tax-deductible.
Other Deductions
There are a variety of other possible tax deductions that may be less common for the average taxpayer. Expenses associated with performing job duties that are not reimbursed by an employer, such as travel and accommodations, may be tax-deductible. Losses that result from failed investments, theft, gambling and natural disasters may also be tax-deductible.
References
Resources
Writer Bio
Gregory Hamel has been a writer since September 2008 and has also authored three novels. He has a Bachelor of Arts in economics from St. Olaf College. Hamel maintains a blog focused on massive open online courses and computer programming.