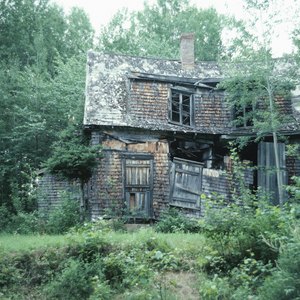 •••
Hemera Technologies/Photos.com/Getty Images
If you are in the market to buy a home, you may be able to get a great deal by looking at homes that need some work. If you are a homeowner already and feel you have outgrown your house, you may be able to renovate it rather than selling and buying another home. A home renovation is a serious project which requires good planning and expert help. If you are ready to put in the work, you can find some very good mortgage options to help you finance the renovation.
FHA 203k Loans
By far the most common kind of renovation loan is the FHA 203k loan. It can be used either to purchase a home that needs some work, or to renovate a home that you already own. In the case of a new purchase, the loan amount is based off of the purchase price plus the costs of repairs. FHA will lend up to 96.5 percent of this total amount. For a 203k refinance, the loan amount can potentially go as high as 110 percent of the final appraised value. In the time following the housing crisis, the FHA 203k loan was a great tool for rebuilding some depressed neighborhoods, allowing people to buy homes that had deteriorated in foreclosure, or even homes that contractors who lost their funding left half built.
Conforming Renovation Loans
Also available is a conforming renovation loan offered through Fannie Mae, but it can only be used for up to 80 percent of the total acquisition costs (purchase price plus repairs). A buyer intending to use this loan would need to commit 20 percent of the total expenditure out of pocket. As with the FHA 203k loan, the conforming renovation loan requires the lender to underwrite and approve the contractor in addition to the buyer.
Home Equity Loans and HELOCs
If you have some equity in your home, you may be able to get a home equity loan or line of credit (HELOC) to renovate your home. The key here is that the lender will estimate your loan off of your current home value, not what the value will be after renovation. Some lenders will offer HELOCs up to 90 percent of the current home value. A HELOC is also called a "second mortgage" because it is a separate loan from your current mortgage.
Cash Out Refinances
If you have a lot of equity in your home, you may be able to get a cash out refinance to renovate your home. The advantage to this option (as well as the HELOC) is that the lender does not need to underwrite the contractor or approve the specifics of the project. You would get the money upfront and then be able to proceed with the renovation on your own terms. Lenders typically lend up to 80 percent of the current value with a conventional cash-out refinance, up to 85 percent on FHA cash-out refinances, and as high as 90 percent on VA loans. Your renovation costs could be no more than the difference between your current mortgage balance and this final value percentage.
Energy Efficient Mortgages
Some communities have special grants available to renovate a newly purchased home toward energy efficiency. Funds would be made available to install appliances and take other measures toward sustainable and cheap energy methods. Ask your lender or community housing office if energy efficient mortgage grants are available in your area.
References
Resources
Writer Bio
With more than a decade of experience, Gregory Erich Phillips is a trusted expert on real estate and mortgage financing. As an author, Phillips is known for his writings on economics, personal finance, religion, politics and culture.