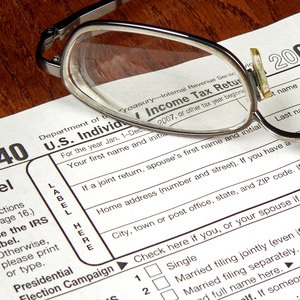 IRS Form 1023 is used by nonprofit organizations to apply for tax-exempt status under Section 501(c)(3) of the federal tax code. Normally, religious organizations do not need to make an application using the IRS 1023 form. If the 1023 application is successful, the IRS will issue a determination letter granting tax-exempt status. Contributions to such an organization are tax-deductible under the tax code. Certain organizations can file using Form 1023-EZ instead, which is simpler and cheaper to file. Check the online Form 1023 instructions with any questions.
Identifying Who's Applying
In part one, identify the name and mailing address of your organization. You must have a federal identification number, which you apply for with IRS Form SS-4 (this can be done online). On this page, you also list your organization's website, if one exists, e-mail address, the names of consultants, the date of organization, and whether your group was formed under foreign law.
Organizational Structure for 1023 Application
Identify your group as a trust, unincorporated association, corporation or limited liability company, and provide the IRS with the founding articles and governing documents, such as bylaws within part two of the form. Tax-exempt status under 501(c)(3) cannot be granted to individuals or partnerships. Generally, your organization will be formed according to your state's laws before you apply for tax exempt status.
Explaining Your Organization's Purpose
In part three of your application, list the purpose of your organization and the language governing that purpose in the founding and governing documents, as well as the disposition of the organization's assets.
Under part five, give a description of your organization, including its specific purpose, planned activities, background and objectives. Forms 990 or 990-EZ, which will be filed in future years, can amend or update this description. Also list any alternative names for the organization.
Listing Employees and Beneficiaries
In part five, list board members, officers, directors and/or trustees, their compensation, and any family and business relationships among the principle officers and directors of the organization. In this part, the IRS lists best practices for non-profit organizations, including the nature of compensation, insider services, contracts, etc.
In section six, explain how and why your organization provides goods and services, and how this contributes to your objectives. Provide information about those who may benefit from your services.
Your Organization's History
The seventh section of the form reveals if your organization is a successor to a for-profit organization. You must file this application within 27 months of organization; there are exceptions to the rule. Schedule E provides the IRS further details if this deadline has not been met.
Listing Specific Activities
Reveal the nature of your activities in section eight, whether the activities are political, lobbying, gaming, fund-raising, government-related, economic development, joint ventures, child care, intellectual property, conservation, foreign operations or the making of grants and/or loans. Some activities are specifically prohibited from tax-exempt status. Organizations such as schools, hospitals, housing and others require specialized knowledge of the tax code in order to apply for 501(c) (3) status.
Financial Statements
In section 9, provide financial statements showing revenue and expenditures for past years and the current year, projected revenues and expenditures, and a balance statement. You may wish to have your accountant prepare this section if you work with one. Explain any atypical accounting methods you use to keep your books.
Public Charity Status
In section 10, identify your organization as public or private, which depends on the nature of the organization's funding, its financial and governing organization, as well as its exempt purposes and activities.
Paying Filing Fees
Section 11 deals with the fee due for processing Form 1023, which depends on the average yearly gross receipts of the NPO. As of 2018, the fee is $600 for organizations filing using Form 1023 and $275 for those using Form 1023-EZ. Only organizations with annual gross receipts of $50,000 or less and meeting other requirements can file using Form 1023-EZ.
References
Writer Bio
Founder/president of the innovative reference publisher The Archive LLC, Tom Streissguth has been a self-employed business owner, independent bookseller and freelance author in the school/library market. Holding a bachelor's degree from Yale, Streissguth has published more than 100 works of history, biography, current affairs and geography for young readers.