IRS Form 1023 Instructions
by Tom Streissguth ; Updated July 27, 2017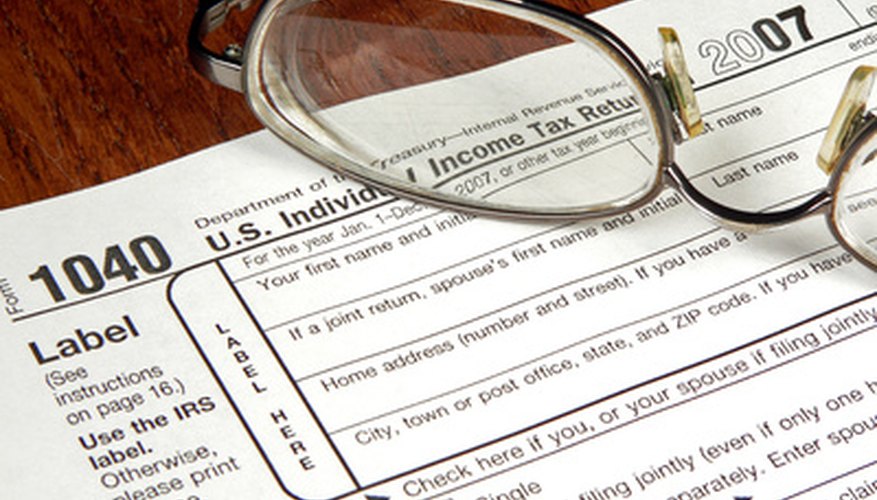 IRS Form 1023 is used by nonprofit organizations to apply for tax-exempt status under Section 501(c)(3) of the federal tax code. Normally, religious organizations do not need to make an application using Form 1023. If the application is successful, the IRS will issue a determination letter granting tax-exempt status. Contributions to such an organization are tax-deductible under the tax code.
Part I - Identification of Applicant
In Part I, identify the name and mailing address of your organization. You must have a federal identification number, which you apply for with IRS Form SS-4 (this can be done online). On this page, you also list your organization's website, if one exists, e-mail address, the names of consultants, the date of organization, and whether your group was formed under foreign law.
Part II – Organizational Structure
Identify your group as a trust, unincorporated association, corporation or limited liability company, and provide the IRS with the founding articles and governing documents (such as bylaws). Tax-exempt status under 501(c)(3) cannot be granted to individuals or partnerships.
Part III – Required Provisions
List the purpose of your organization and the language governing that purpose in the founding and governing documents, as well as the disposition of the organization's assets.
Part IV - Narrative Description of Your Activities
Give a description of your organization, including its specific purpose, planned activities, background and objectives. Forms 990 or 990-EZ, which will be filed in future years, can amend or update this description. Also list any alternative names for the organization.
Part V - Compensation of Board and Others
In this section, list board members, officers, directors and/or trustees, their compensation, and any family and business relationships among the principle officers and directors of the organization. In this part, the IRS lists best practices for non-profit organizations, including the nature of compensation, insider services, contracts, etc.
Part VI - Members and Beneficiaries
In this section, explain how and why your organization provides goods and services, and how this contributes to your objectives. Provide information about those who may benefit from your services.
Part VII – History
This section reveals if your organization is a successor to a for-profit organization. You must file this application within 27 months of organization; there are exceptions to the rule. Schedule E provides the IRS further details if this deadline has not been met.
Part VIII – Specific Activities
Reveal the nature of your activities in this section, whether the activities are political, lobbying, gaming, fund-raising, government-related, economic development, joint ventures, child care, intellectual property, conservation, foreign operations or the making of grants and/or loans. Some activities are specifically prohibited from tax-exempt status. Organizations such as schools, hospitals, housing and others require specialized knowledge of the tax code in order to apply for 501(c) (3) status.
Part IX – Financial Statements
In this section, provide financial statements showing revenue and expenditures for past years and the current year, projected revenues and expenditures, and a balance statement.
Part X - Public Charity Status
In this section, identify your organization as public or private, which depends on the nature of the organization's funding, its financial and governing organization, as well as its purpose and activities.
Part XI - User Fee Information
This section deals with the fee due for processing Form 1023, which depends on the average yearly gross receipts of the NPO. As of 2010, the fee is $400 for organizations averaging not more than $10,000 in gross receipts over a 4-year period, $850 for organizations whose gross receipts exceed $10,000 annually over a 4-year period, and $3,000 for group exemption letters.