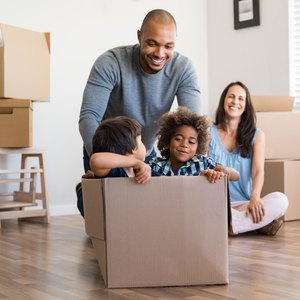 •••
Ridofranz/iStock/GettyImages
Hunting for your dream home is arguably one of the most exciting aspects of the home-buying experience, next to getting the keys and moving in, of course. However, when you're ready to get serious about purchasing a new home, you will need to start thinking about getting preapproved for a mortgage. While you can hunt for homes and even make offers on a property without a preapproval, you may find that sellers take potential buyers who come with preapprovals more seriously. A preapproval also has the added bonus of letting you know just how much home you can afford, so you can focus search efforts in your price range.
How To Get Preapproved for a Mortgage
To get preapproved for a mortgage, you will need to have a few things on hand that a potential lender will undoubtedly ask for. These items include proof of income and employment such as recent pay stubs, W2s as well as your employer's information and proof of assets such as a few months of recent bank or investment account statements. You also need to have good credit – the lender will check – and identification such as a state or government-issued ID card. If you're self-employed, or an independent contractor, you may have to provide additional documentation, like tax returns, to prove employment and income. It is best to contact your lender to find out exactly what is required for preapproval, and depending on your lender, you might be able to get preapproved on the lender's website
How Long Does a Preapproval for a Mortgage Last?
A mortgage approval isn't good indefinitely, and typically lasts for 90 days, depending on the lender. This preapproval period is generally enough time to find a suitable property and begin the home-buying process. A lot can change on a person's credit report in 90 days, and a lender wants to be sure that you are likely to still be as creditworthy as you were when the preapproval was first issued. Because lenders want the most up-to-date information on your income, employment, credit score and debt, once your preapproval expires you will need to go through the process again.
Do I Qualify as a First-Time Home Buyer?
More often than not, to qualify as a first-time home buyer you must be purchasing a home for the first time. However, for some governmental agencies like the IRS and FHA, you can be considered a first-time home buyer even if you have purchased a home before. For example, the IRS considers a first-time home buyer to be someone who has not owned a home in the last two years for purposes of making penalty-free withdrawals from an IRA to buy a home, while the FHA states that first-time home buyers cannot have had interest in a home in the previous three years. Other first-time home buyer programs are more specific, and requirements as well as definitions will vary from lender to lender.
What Type of Credit Is Needed?
The type of credit needed largely depends on the type of mortgage you're attempting to obtain. Lenders check your FICO, or Fair Isaac Corporation, score, which assesses your credit risk. The lower your FICO score, the more risk a lender is likely to assume by giving you a loan. On the other hand, the higher your score – which can range from 300 to 850 – the less risk a bank takes when lending you money and the less likely you are to default on the loan. Most lenders want borrowers with scores at least in the 700s, but there are programs and loan products available that are specifically geared towards borrowers with lower credit scores. According to credit reporting agency TransUnion®, 658 to 719 is considered average or fair credit. Even though you can still qualify for a loan with fair credit or even poor credit, you may have a higher interest rate than someone with very good or excellent credit.
If your credit score isn't the highest, Federal Housing Administration, or FHA, loans have very lenient underwriter requirements in comparison to conventional loans, and only require borrowers to have a credit score of at least 500. However, with a score of 500 – 579, expect to put at least 10 percent down. You could also find yourself jumping through more hoops to get qualified as the lender will require you to prove your creditworthiness. But with a score of 580 or more, for example, you only need to come up with a 3.5 percent down payment for an FHA loan.
Other Considerations
You may have heard that getting multiple preapprovals for a mortgage can hurt your credit score, however, this isn't the case. Lenders perform a soft inquiry to issue you a preapproval letter, and not a hard inquiry. Other lenders will not see a soft inquiry credit pull and it will not impact your credit score, unless you go through with the application and apply for the loan. At that point, the lender will run a hard inquiry to probe deeper into your report.
References
Writer Bio
Tara Thomas is a Los Angeles-based writer and avid world traveler. Her articles appear in various online publications, including Sapling, PocketSense, Zacks, Livestrong, Modern Mom and SF Gate. Thomas has a Bachelor of Science in marine biology from California State University, Long Beach and spent 10 years as a mortgage consultant.