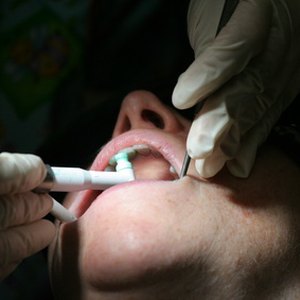 •••
Person having teeth cleaned image by skidme from Fotolia.com
Dental grants are rarely offered directly to an individual; they are usually awarded to state and local community health care organizations, hospitals and research groups. The grants enable these health care facilities to offer low-cost options to the under-insured or uninsured patient in the form of payment plans and sliding-scale fees. Free dental clinics and traveling health care events like those offered by America's Dentists Care Foundation -- also known as Mission of Mercy -- can be located through state dental associations or dental health foundations and societies.
Call your community health care program and ask about dental services. Locate contact information via city, county or community service organizations. Call the local United Way Agency office or state dental associations. Other resources that keep track of community programs include churches, schools, libraries, community centers and community colleges.
Contact the healthcare programs and ask what services are available. Calling each available health program and asking about dental services is important; each one may offer a different set of solutions. Some may offer sliding-scale fees. Others may charge a flat fee per visit or offer free services.
Make an appointment for dental work. Find out ahead of time what paperwork or proof of income may be required. Community health services are usually based on income and will require a copy of the latest income tax return, a copy of pay stubs and proof of a permanent address within the city or community service area.
Show up for the dental appointment at least 20 to 30 minutes ahead of time to fill out all necessary paperwork. Forms are often required by the federal government and others providing the funding. Without the paperwork the free services may diminish or disappear entirely.
Free clinic events like those offered at Missions of Mercy may be run on a lottery or first-come first-served basis. Contact the group offering the free services to find out how to gain an appointment.

Dental associations offer different types of free or discounted dental care. For instance, The American Academy of Cosmetic Dentistry offers low or no cost restorative and cosmetic dental work for women whose teeth have been damaged during domestic violence.
References
Writer Bio
Alex Burke holds a degree in environmental design and a Master of Arts in information management. She's worked as a licensed interior designer, artist, database administrator and nightclub manager. A perpetual student, Burke writes Web content on a variety of topics, including art, interior design, database design, culture, health and business.