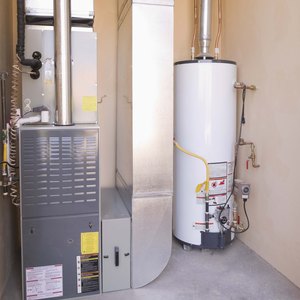 •••
Jupiterimages/Comstock/Getty Images
Upgrading your house does more than just make it a pleasant place to live. In many cases, it also makes it worth more money. This rule applies to everything from replacing your front door to remodeling your basement. However, since relatively few upgrades return more than their cost, upgrading just for profit is rarely a wise strategy.
Deck Addition
Based on Remodeling Magazine's 2013 Cost vs. Value survey, adding a wood deck to your house retains 77.3 percent of its value. On average, a new mid-range deck that costs $9,327 will add $7,213 to the value of your house. While adding a deck is a relatively good idea, adding a sunroom isn't. Sunroom additions retain just 46.5 percent of their cost.
Kitchen Remodeling
A mid-range minor kitchen remodel is another excellent upgrade from the perspective of increasing your home's value. $18,527 worth of work won't just give you a nicer kitchen -- it'll also retain 75.4 percent of what you spend on it by adding $13,977 to your home's price. Major kitchen remodels, which cost $53,931 on average, are not quite as efficient since they retain just 68.9 percent of what you spend.
Attic and Basement Remodeling
Converting unfinished space in your home -- like attics and basements -- creates equity. Spending $47,919 to turn an attic into a bedroom retains 72.9 percent of its value, increasing your house's selling price by $34,916 on average. Basement remodels, which cost $61,303 on average, are almost as efficient, retaining 70.3 percent of their cost.
Valuable Small Upgrades
You can also add value to your house without spending large sums of money. Spending around $1,500 to replace your garage door should add around $1,100 to your home's value. One of the most efficient upgrades, a new front door, is also one of the least expensive. A new front door not only increases your curb appeal but also adds $974 in value for a $1,137 job. Do-it-yourself upgrades like replacing a dated bathroom vanity or changing the front panels of your kitchen appliances are also good ways to add a little bit of value.
Renovations to Avoid
Some renovations can actually reduce the value of your house. Turning your garage into an extra room may seem like an excellent idea, but it also prevents buyers that need a garage from considering your house. Unless you live in areas where a swimming pool is a year-round luxury, a swimming pool also frequently decreases the value of your home, since many home buyers do not want the expense of caring for it or the liability that it brings. Extremely specialized renovations can also harm your home's value if a buyer will have to spend their own money to tear out the work that you did.
References
Writer Bio
Steve Lander has been a writer since 1996, with experience in the fields of financial services, real estate and technology. His work has appeared in trade publications such as the "Minnesota Real Estate Journal" and "Minnesota Multi-Housing Association Advocate." Lander holds a Bachelor of Arts in political science from Columbia University.