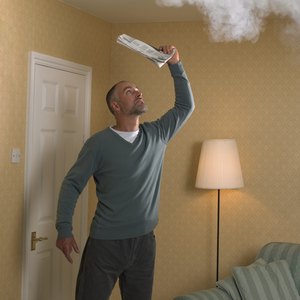 •••
Michael Blann/Digital Vision/Getty Images
House fires can take an emotional and financial toll on your family, especially if you lost irreplaceable items or discover your insurance coverage was insufficient to cover your damages. However, you can start the rebuilding process by calling your insurance company or agent to report the fire. The company may authorize you to make certain emergency arrangements or repairs before any company representatives, such as the adjuster, have even seen your home's damage.
Filing a Claim
You won't know how much money you have available to rebuild or repair your home until the insurance adjuster visits your home, makes his report and the insurance company offers you a settlement. To begin this process, you must file a claim with your homeowner's insurance company. For many companies, this may be as simple as calling your agent and giving him some basic information about the fire, including the date, description of the damages and whether or not temporary repairs are necessary. Once your claim is officially filed, the insurance company arranges to send an adjuster to your property to assess the damage.
Documentation
Your adjuster may perform an accurate, fair assessment of the damage to your home and the cost to repair it, but he could miss something or underestimate repair costs. Thus, it is important for you to document the damage to your property as soon as possible, including repair estimates. You can make a list of the damaged items, take photos or even make a video recording of the damaged area. Without such evidence, you may be forced to accept your insurance company's offer, even if it is too low, because you may not be able to prove the damage was worse than what the adjuster's report shows.
Adjuster's Visit
If your fire was caused by a wide-spread disaster, you may have to wait a while before an adjuster is available to visit your property, but otherwise, an adjuster may be able to view your property within days of your fire. At the visit, your adjuster makes a list of your damages, takes photographs and may take measurements of damaged areas. If you made a list of the damages you noticed, you can compare your list to the adjuster's while he is still there and point out any additional damages he did not record. The adjuster likely will not give you any cost estimates at this visit, but he may tell you what damages the insurance company will probably repair.
If you do not agree with the results of the adjuster's report, you can hire a public adjuster, one who does not work for an insurance company, to reevaluate your damages. Your insurance company may authorize a higher payment if a public adjuster or repair companies think it will cost more to repair the damages.
Paying for Repairs
After the adjuster files his report, your insurance company will send you a settlement amount along with a list of damages upon which it based the settlement. For example, if the fire damaged only part of your roof, your settlement may include repairs only for the damaged portion rather than the entire roof. If your policy includes full replacement value coverage, your insurance company likely will cover the cost of repairs rather than just the depreciated cost of the damaged items. You may receive a partial payment up front with the remainder paid after repairs are completed.
References
Writer Bio
Heather Frances has been writing professionally since 2005. Her work has been published in law reviews, local newspapers and online. Frances holds a Bachelor of Arts in social studies education from the University of Wyoming and a Juris Doctor from Baylor University Law School.