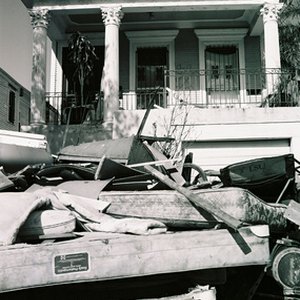 Whether a homeowner's insurance covers the costs of damage to a fence from a hurricane depends on so many factors that the answer to the "am I covered" question is yes, no and maybe. A common type of homeowner's insurance covers many perils including wind. Hurricanes, however, may pose a more complicated peril since they often involve wind and flood. Insurance in the U.S. is regulated by states. Each state has its own rules.
Windstorms
In some states and regions, windstorm damage may be covered within the homeowner's insurance policy limits. In some specific insurance policies, windstorm damage is not covered at all and is listed in the policy under its exclusions. If windstorm damage is covered, damage to the fence may be covered. Often, the coverage for a fence would be a small percentage of the coverage for the dwelling. In other words, the dollar limit could be low. Usually, such coverage is limited to the valuation method, known as actual-cash value. What this means is the fence, as the damaged property, could be covered to its replacement cost within the policy limits, minus an amount for its depreciation.
Natural Disasters
Hurricanes, earthquakes and floods may be commonly referred to as acts of God, although insurance policies are not likely to make this reference. These natural disasters create perils that are not man-made. Damage from earthquakes and floods is not covered by ordinary homeowner's insurance. Flood insurance is not part of homeowner's insurance but instead is underwritten by a federal program and offered through insurance companies in certain flood-prone areas. Hurricanes can combine wind and flood damage. If you want flood insurance and are eligible for it, the time to arrange for it is well before a threat of flood. Federal rules usually exclude the purchase of such insurance when the threat is imminent. If flood related to hurricane is the cause of damage to a fence and you do not have flood insurance, the damage is not likely to be covered.
Hurricane Insurance
Regular homeowner's insurance does not cover hurricane damage, but additional hurricane insurance may be available. Homeowner's insurance that includes hurricane coverage can be costly in areas where hurricanes commonly damage homes. The coverage can also have a high deductible amount, which the homeowner is responsible to pay in the event of a covered claim. Even with hurricane insurance, flood damage may not be covered unless you have federal flood insurance. Read and understand the terms, limits and exclusions of the policy. If you have hurricane insurance, the damage to a fence could be covered after the deductible is paid and within the policy-dollar amounts.
Other Considerations
Some homeowner's-insurance policies that have been effect for many years may not include some contemporary types of coverage. Review your coverage with an insurance agent or representative to determine that your homeowner's insurance is up to date with its types of coverage and valuation methods for your property.
In the event of a large-scale hurricane, the cost of labor and supplies to repair or replace homes and their adjacent structures, including fences, is likely to rise. Supplies tend to become short. If you live in an area where hurricanes are prevalent, a type of coverage may be available that is called "extended replacement." This type of coverage helps ensure that damages to the home, including its fences, are covered even when construction costs escalate.
References
Writer Bio
Arizona-based Mary Schultz has contributed articles about family, health, home improvement, agriculture and travel to newspapers and magazines. For over three award-winning decades as a marketing writer, Schultz has focused on technology, financial and insurance services and products, medical care, health and fitness, community heritage, tourism and charitable causes. She holds a Bachelor of Arts, honors English, from California State University, Northridge.