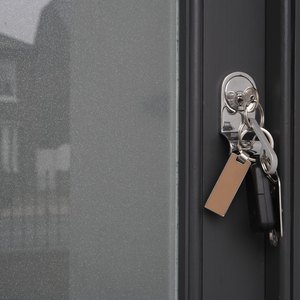 •••
Michael Blann/Photodisc/Getty Images
Walking away from your home is usually a last resort when facing financial hardship; however, your mortgage lender can assist your exit with a deed in lieu of foreclosure. Lenders can offer a deed-in-lieu as an alternative to foreclosure if you prove unable to meet your mortgage obligation. You must demonstrate an acceptable financial hardship to be considered for this program in which you deed the property to your lender and move out.
A Viable Last Resort
With a deed-in-lieu, you cooperate with your lender to convey title and possession of the home in a timely and suitable manner. Lenders require you to vacate the home by a specific date and leave it in acceptable condition. Financially distressed homeowners must usually undergo evaluation for other loss mitigation options, such as refinance, loan modification or short sale, in which you sell your home for less than you owe the lender. A deed-in-lieu hurts your credit and is usually as damaging as foreclosure; however, your lender may provide a monetary incentive to help you relocate.
Making Home Affordable Hardship Reasons
The Department of the Treasury streamlined a deed-in-lieu process through its Making Home Affordable initiative, which includes the Home Affordable Foreclosure Alternatives deed-in-lieu option. To acquire a HAFA deed-in-lieu, your lender must participate in the government program and you must apply. The "Request for Modification and Affidavit" application outlines acceptable hardships and allows you to further detail the circumstances leading to your financial difficulties. HAFA's hardship reasons include: reduced household income; increased expenses; excessive monthly debt payments; and insufficient cash reserves.
Financial Evaluation Required
Whether your lender participates in HAFA or offers its own deed-in-lieu program, it usually requires you to explain and document your financial hardship. For example, if unemployment, reduced hours or a pay cut caused your hardship, you may be required to provide an unemployment benefits letter, pay stubs, income tax returns or a combination of these to substantiate your request. Lenders evaluate your deed-in-lieu application, your documentation and the property itself to determine whether a deed-in-lieu is in its best interests.
Flexibility for Extenuating Circumstances
Fannie Mae and Freddie Mac, government-sponsored enterprises which own a majority of conventional mortgages, can expedite the deed-in-lieu process for borrowers with extenuating hardships. For example, while most borrowers must fall 90 days or more behind on payments before receiving a deed-in-lieu, Fannie and Freddie don't require a minimum delinquency period if your hardship involves a death or serious illness. You must document the death of a borrower or a primary or secondary wage earner. A long-term or permanent disability or the serious illness of a borrower, co-borrower or dependent also qualify for this exception. Borrowers with a discharged Chapter 7 bankruptcy may also receive a deed-in-lieu sooner. Lenders also have discretion to determine whether a different hardship qualifies for the exception.
References
Writer Bio
Karina C. Hernandez is a real estate agent in San Diego. She has covered housing and personal finance topics for multiple internet channels over the past 10 years. Karina has a B.A. in English from UCLA and has written for eHow, sfGate, the nest, Quicken, TurboTax, RE/Max, Zacks and Opposing Views.