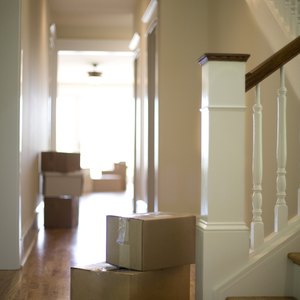 •••
David Sacks/Photodisc/Getty Images
Losing your home to foreclosure damages your credit, finances and can hurt your sense of stability and confidence. If you obtained a Federal Housing Administration loan on your home, you likely had a minimal down payment or little equity in the home, possibly some credit challenges, and a modest income. It typically takes several years to recover from a foreclosure on an FHA-insured loan and future lenders may place additional restrictions on you for this past credit damage.
Lender Deprives You of Ownership
Foreclosure is the legal process by which a default causes the FHA lender servicing your loan to deprive you of your ownership rights. The average time frame for completion of the foreclosure process varies by lender and state foreclosure laws. Pre-foreclosure can begin in as few as three months of missed payments, can take more than a year to culminate. In some cases, pre-foreclosure can take several years to complete. It is certain, however, that you must eventually move out of the home after foreclosure on an FHA loan.
HUD Takes Over
The Department of Housing and Urban Development oversees the FHA's programs. As a result, a foreclosed home with an FHA loan reverts to HUD's ownership as real estate owned, or an "REO." HUD lists REOs for sale to the general public, such as investors and homebuyers. You can find HUD-owned properties via HUD's website, national real estate listing websites and your local Multiple Listing Service. HUD resells the home to recover as much of its losses as possible, but usually for less than the balance originally owed on the FHA loan.
Mortgage Insurance Benefit Kicks In
FHA mortgage insurance coverage is the main benefit lenders obtain from originating and servicing FHA-insured loans. You paid a mortgage insurance premium when you obtained the loan and each month thereafter along with your mortgage payments. FHA insurance premiums contribute to the agency's Mutual Mortgage Insurance fund, or the MMI. After a foreclosure, the lender files a claim with the FHA for reimbursement. The FHA pays lender losses from the MMI fund.
Future FHA Eligibility Tarnished
Defaulting on a mortgage is one of the most serious credit missteps you can make, but foreclosure on an FHA-insured loan has unique consequences if you need a government-insured loan in the future. The FHA reports delinquencies and claims paid for federally-backed mortgages to the Credit Alert Interactive Voice Response System -- a federal computerized tracking system. FHA lenders must check the system before approving a loan and can deny approval based on the past delinquency. Federal law prohibits delinquent debtors from obtaining federal mortgage insurance guarantees, according to the HUD website.
References
Resources
Writer Bio
Karina C. Hernandez is a real estate agent in San Diego. She has covered housing and personal finance topics for multiple internet channels over the past 10 years. Karina has a B.A. in English from UCLA and has written for eHow, sfGate, the nest, Quicken, TurboTax, RE/Max, Zacks and Opposing Views.