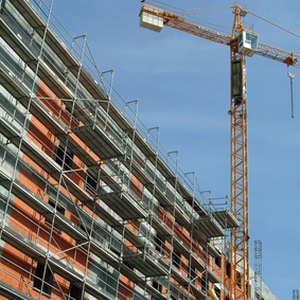 •••
building in construction image by JoLin from Fotolia.com
Government real estate grants are provided to local governments and non-profit organizations that are committed to serving low income communities. Real estate investors are eligible to apply for funding as long as the real estate project will provide affordable housing or create jobs for low income communities. The U.S. Department of Housing and Urban Development, Economic Development Administration and the U.S. Department of Treasury provide grants and tax credits for real estate development projects.
Affordable Housing Grant
The Community Development Block Grant Program provides funding for low income housing. HUD administers this program to local governments who then distribute the funds to qualified organizations who provide affordable housing to low income households. Typical affordable housing projects include housing for seniors, people with disabilities and families. The affordable housing developer must agree to keep rents affordable for low income households as a condition of the grant. A real estate investor can partner with a affordable housing developer to apply for funding. The developer must allocate a portion of the units to be restricted for only low income households.
Emergency Capital Repair Grant
HUD provides capital grants to affordable multifamily housing property owners for emergency repairs. These repairs are anything that affects the health and safety of the tenants that reside in the affordable housing project. These grants are available to property owners on a one time only basis. The maximum grant award is $500,000.
Assisted Housing Stability and Energy and Green Retrofit
HUD provides funding to retrofit affordable housing properties with energy and green improvements. A survey is conducted on the property to determine the grant amount. The property owner must agree to continue to keep rents affordable as a condition of receiving the grant. The grant must be spent within two years of receiving the funding. As of December 2010, HUD has allocated $250 million for the Assisted Housing Stability and Energy and Green Retrofit program.
Economic Development Grant Programs
Economic development grant programs are for the purpose for stimulating economic growth in low income communities. These grants are provided to organizations to create job opportunities for qualified applicants. The jobs are created by acquiring, constructing, or rehabilitating a building to be used as a place of employment. EDA provides investment assistance to qualified projects in distressed neighborhoods. The organizations will be required to match EDA's contribution with their own funds. The New Market Tax Credit program administered through the Department of Treasury allows investors to take a 39 percent tax credit on the costs of a development over a seven year period. The tax credit helps reduce the costs of developing employment opportunities for low income communities.
References
Writer Bio
Davina Price has been writing since 2003, specializing in grant and technical writing for government and nonprofit organizations. She currently is a licensed real-estate agent in Southern California and specializes in working with first-time home buyers. She holds a Bachelor of Arts degree in communications from the University of Southern California.