Grants & Loans Available for College Students Who Need Help With Rent and Utilities
by Jack Gordon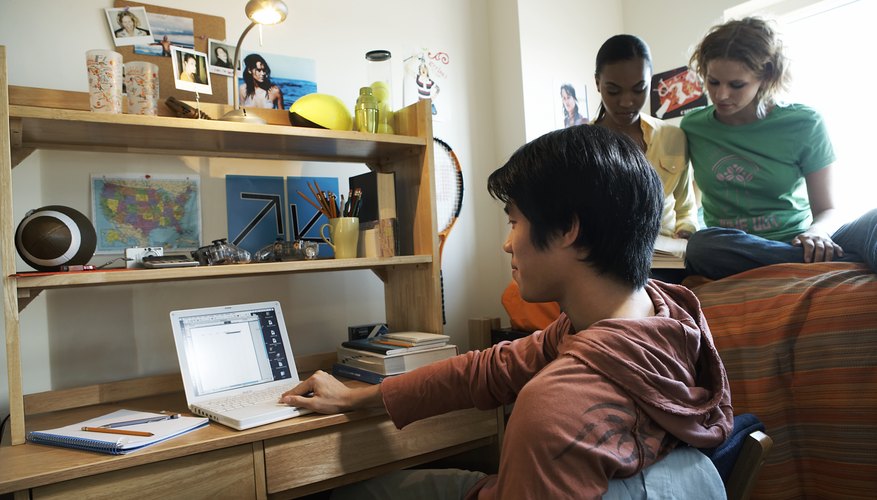 With the rise in college admission numbers, subsidized on-campus accommodation has become harder to find. Students increasingly have to rent apartments at the prevailing market rates. Utilities, rent and parking fees can build up, leaving you financially challenged and unable to meet basic needs. Fortunately, several private and government organizations that can help you with loans and grants to cover living expenses -- specifically, rent and utilities.
Stafford Loans
The Stafford Loan is a low-interest loan provided by the federal government, aimed at helping undergraduate and graduate students. You have the option of taking a subsidized or unsubsidized loan. Undergraduate students who apply for the subsidized loan can get up to $8,500 per year, while those who opt for the unsubsidized loan get up to $12,000 per year. Both options attract an interest rate of 3.86 percent that accrues while in school, but the federal government covers this interest for the subsidized loans. Graduate students are eligible to apply for the unsubsidized option, which provides up to $20,500 per year with a low fixed interest rate of 5.41 percent at time of publication.
Federal Supplemental Educational Opportunity Grants
The Federal Supplemental Educational Opportunity Grant is offered by the Department of Education. However, it is administered directly by the financial aid office of the participating school. You must first fill out the Free Application for Federal Student Aid and submit through your university, which determines your level of financial need. You can expect to receive between $100 and $4,000 per year to be used for tuition, board and utilities. The money does not have to be repaid.
Pell Grants
The Pell Grant is designed to meet the financial needs of disadvantaged students. Eligibility depends on several criteria. Your needs must exceed expected family contribution and you must be a full-time student enrolled for the whole school year. The costs associated with your education are evaluated as part of the application process. Amounts disbursed depend on the availability of funds, though students can expect grants up to $5,500 to cover tuition as well as rent and utilities.
Institutional Grants
A number of colleges offer grants to be used toward housing and utilities. Typically, you will be required to file a formal request for grants in addition to the FAFSA application. For example, Florida Gulf Coast University offers $1,200 to each eligible student per year. Oakland University awards up to $4,000 to those students in most need of assistance. Others examples include Youngstown State University and LIM College in New York that provide need-based awards of $2,000 and $1,500 per successful applicant per year, respectively.
Photo Credits
James Woodson/Photodisc/Getty Images