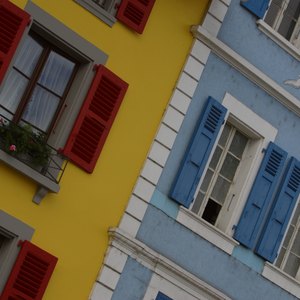 •••
Jupiterimages/Photos.com/Getty Images
The term affordable housing refers to housing that costs no more than 30 percent of a family's annual income. According to 2013 report by the National Association of Home Builders, affordable house is something that's becoming increasingly difficult to find.
Origins
Before there was the conventional 30 percent benchmark, the phrase referred to income limits established by the National Housing Act of 1937. Initially, eligible families could not earn more than five or six times the rent to live in public housing. Several years later, maximum income limits gave way to the current percentage-based model, with renters paying no more than 20 percent of their annual income. In 1959, another Housing Act gave local housing authorities more autonomy to establish percentages to account for rising costs, and by 1981, the affordability standard settled at 30 percent.
Regional Affordability
When it comes to affordable housing, though, one size does not fit all. Affordability is influenced by everything from regional property values and median incomes to population densities and utility costs. According to the U.S. Census Bureau, California has some of the highest property values in the country. Because the median income lags behind, however, the Golden State is also home to more overburdened renters and homeowners than any other state in the union. States like Wyoming and Nebraska, on the other hand, enjoy relatively high median incomes, low property values and subsequently, low housing cost burdens.
Trends
Rick Judson, a North Carolina builder and chairman of the NAHB, says low mortgage rates and even lower prices have kept housing affordability at record highs over the past few years. As markets begin to recover and home values continue to strengthen, Judson says the increasing cost of materials, the availability of usable lots and labor costs mean that home affordability will remain a challenge in many states.
Affordable Housing Programs
While 30 percent remains the definitive threshold for affordable housing, the U.S. Department of Housing and Urban Development estimates more than 12 million households nationwide spend up to 50 percent of their annual income keeping a roof over their heads. To combat the trend, the department administers a variety of housing initiatives and grant programs. The HOME program awards flexible grants to state and local governments to operate housing programs for low-income families and the SHOP program provides funds to nonprofits to develop sweat equity, volunteer-based home ownership programs for low-income families.
References
Writer Bio
Based in Anchorage, Alaska, Kirsten Swann is a business writer whose articles cover topics from real estate to small business and entrepreneurship. Her work has appeared in newspapers and broadcasts up and down the West Coast and she is an alumna of Hillsdale College in Hillsdale, Mich.