Who Gets Pell Grants?
by Sophie Johnson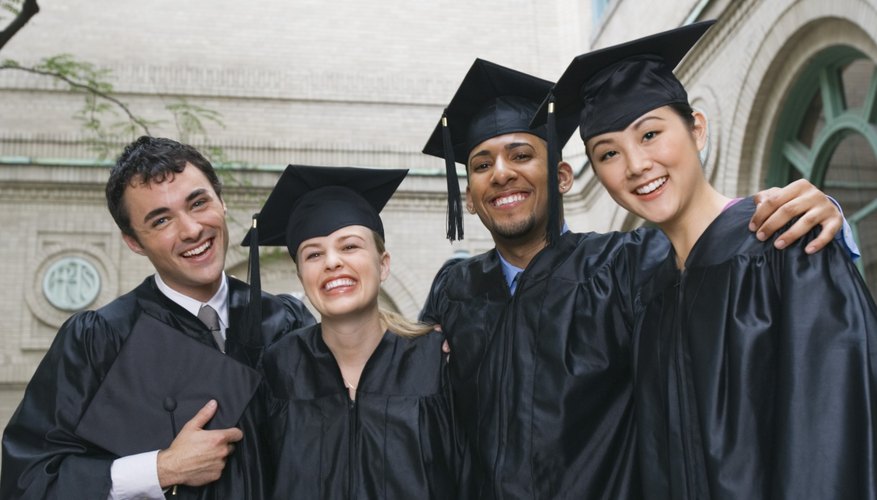 College students receive Federal Pell Grants from the U.S. government. To qualify, an applicant must fall below a certain income. Students with fsamily incomes of up to $60,000 qualify, according to the Minnesota Office of Higher Education, though most grants go to students with family incomes under $30,000. Pell grant amounts vary. For 2012-2013, the maximum annual award was $5,550. Federal Pell Grants don't have to be repaid.
Which Students?
Undergraduate students are the Pell Grant's main recipients, and you can't get a Pell Grant if you've already earned a bachelor's or professional degree. There is an exception for people enrolled in post-baccalaureate teacher certification programs. Even if you meet other criteria, you can't get a Pell Grant if you're in prison or "subject to an involuntary civil commitment upon completion of a period of incarceration for a forcible or nonforcible sexual offense," notes the U.S. Department of Education.
Competition
You aren't competing against fellow students for the Pell Grant, which is a good thing -- 9 million students relied on the awards in 2011-2012, according to a report from the CollegeBoard. Every school involved in the Pell Grant program gets enough funds from the federal government to cover every qualifying student. In 2011-2012 they paid out $34.5 billion. The average grant was $3,685.
Application Process
Only those who fill out the Free Application for Federal Student Aid can get Pell Grants. You can fill out the FAFSA online or on paper for the 2013-2014 year any time between January 1, 2013 and June 30, 2014. Your school will notify you about your financial aid package, including the Pell Grant. Tell the school what part of the package you want to accept. The federal government disburses the funds to the school, which applies the money to whatever you owe. At least once per school term, the school disburses any leftover money to you.
Limitations
Meeting all the requirements to receive a Pell Grant award doesn't mean you'll receive the maximum grant. How much you get rests on several factors, including the cost of your particular school, whether you're attending school full- or part-time, need, and whether you'll attend school for the whole academic year. Also, you can only receive a Pell Grant for 12 semesters.
Need-based Eligibility
To calculate your eligibility for a need-based award such as the Pell Grant, your school subtracts your "Expected Family Contribution" from your "cost of attendance." That provides your maximum financial need amount. You can't be granted more than that. The school derives your EFC by examining your resources, including taxable and non-taxable income and assets. The cost of attendance includes tuition, books and other expenses.
Special Considerations
Students who qualify for the Pell Grant get special consideration if their parents or guardians died due to military service in the Middle East after 9/11. If a student was younger than 24 when the death occurred or enrolled in college, the EFC is changed to zero. That qualifies those students for a larger Pell Grant.
Photo Credits
Creatas Images/Creatas/Getty Images