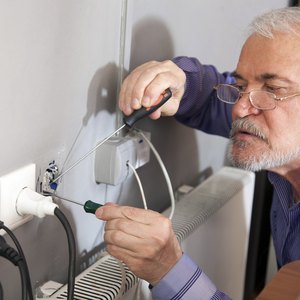 •••
sdigital/iStock/Getty Images
If you are an active "A" member in good standing of the International Brotherhood of Electrical Workers, you may qualify for a pension under the guidelines in the "Summary Plan Description for the IBEW Pension Benefit Fund." Provided you meet the age and service requirements, the process is relatively straightforward. However, given the plan's provisions, as well as the time needed to research your claim, the IBEW may take as long as 105 days to respond to your application. You should take this into consideration when preparing to file for your union retirement benefits.
Submit a written request for a pension application to the International Secretary-Treasurer. You may submit this request yourself, or your local union may submit it on your behalf. The request should include your name, local union number, card number, date of birth, and the type of pension benefit you are requesting: full, reduced, or disability.
Complete the application once you receive it from your local's Financial Secretary.
Return your completed application to the Financial Secretary, who will have the appropriate signatures affixed and then forward the signed and sealed application to the I.S.T.
Wait for the I.S.T. to review your application. If it is in order, it will be added to the IBEW pension benefit roll. You will be notified by the union when this action has been taken.
Pay your per capita tax for the current month at your local union office. You will begin receiving your monthly union retirement checks on the first of the following month.
Based upon your age and years of service, your monthly pension benefit check amount may vary. Be sure to completely review the Summary Plan Description for the IBEW Pension Benefit Fund and the IBEW Pension Benefit Fund Rules and Regulations. Both documents are available for download at the IBEW website.
References
Writer Bio
Rich Finzer earned his boating license in 1960 and started his writing career in 1969. His writing has appeared in "Northern Breezes," "Southwinds," "Living Aboard," "Good Old Boat," "Latitudes & Attitudes," "Small Craft Advisor," "Life in the Finger Lakes," "BackHome" and "Dollar Stretcher" magazines. His maple syrup has won awards in competition. Rich has a Bachelor of Science in communications from Ithaca College.