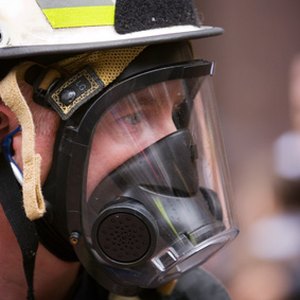 Since 1934, the Federal Housing Administration (FHA) has offered homebuyers and homeowners various incentives with their goverment-guaranteed mortgage programs. FHA insures purchase money and refinance loans. The government insurance protects lenders against borrower default and allows applicants to receive competitive interest rates with minimal credit requirements and a low down payment. In addition to serving low- to moderate-income households, FHA helps teachers and firefighters finance a purchase with programs designed specifically for them.
Good Neighbor Next Door (GNND)
"The Neighbor Next Door initiatives are a collection of FHA's home sales programs designed to help communities and promote homeownership," informs the Department of Housing and Urban Development. The Good Neighbor Next Door (GNND) loans allow eligible full-time teachers, firefighters, law enforcement and emergency responders to purchase a prinipal residence at reduced price. The Teacher Next Door and Firefighter Next Door programs were consolidated into GNND. The GNND is a second loan that only works in conjunction with an FHA first (primary) mortgage. Borrowers must certify that they plan to live in the property for at least the first three years of ownership. Eligible properties are single family homes located within hundreds of HUD-designated revitalization areas throughout the country. "HUD provides a substantial incentive in the form of a 50 percent discount off the list price of eligible properties," according to HUD. The borrower must sign a second mortgage for the discounted amount, which is interest-free provided that they fulfill the three-year owner-occupancy requirement. They may keep any equity if they sell the home after this period.
FHA 203(k) Rehabilitation Loan
FHA's 203(k) rehabilitation loan allows teachers and firefighters, as well as borrowers from other lines of work, to renovate purchased properties or their existing residence. The loan combines a permanent mortgage with a temporary construction loan to fund the project until completion. The cost of property improvements are financed into the new loan. If the teacher or firefighter has an existing GNND subordinate (second) loan, the GNND may remain subordinate to a 203(k) rehab loan insured by FHA, according to HUD.
Refinance Options
All refinance options are open to teachers and firefighters. The best refinance options for teachers and firefighters with GNND loans allowing them to keep the GNND second loan without having to pay it off. They may refinance their primary mortgage and the GNND may remain in second position (subordinate) to the new loan. Such first mortgages can be acquired through the FHA streamline refinance process, which requires minimal qualifying and no appraisal. An FHA-insured loan that prevents the borrower from defaulting on their first mortgage may also be paired with a GNND, according to HUD.
References
Writer Bio
Karina C. Hernandez is a real estate agent in San Diego. She has covered housing and personal finance topics for multiple internet channels over the past 10 years. Karina has a B.A. in English from UCLA and has written for eHow, sfGate, the nest, Quicken, TurboTax, RE/Max, Zacks and Opposing Views.